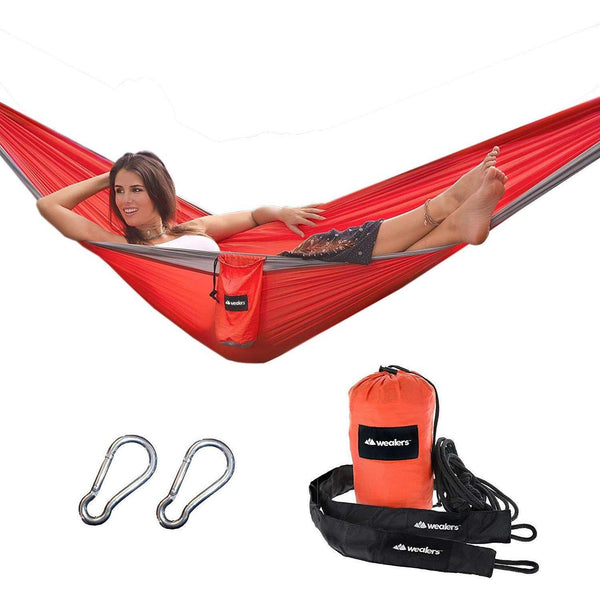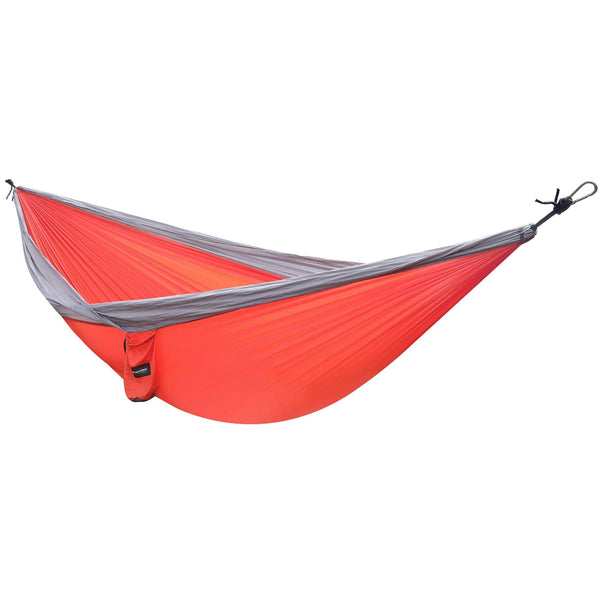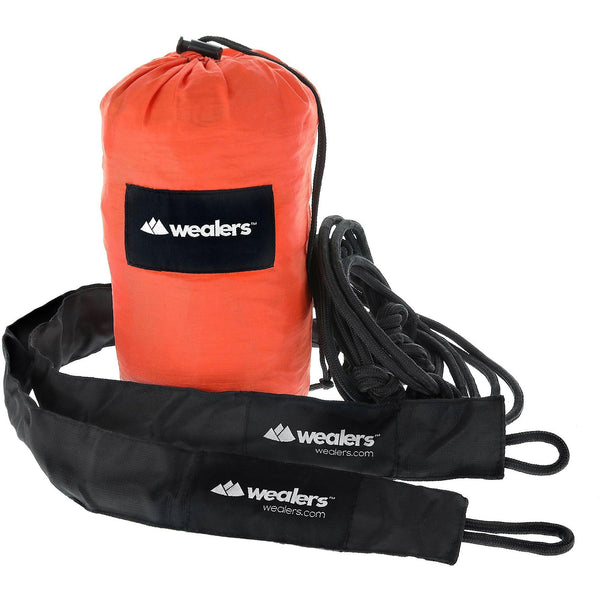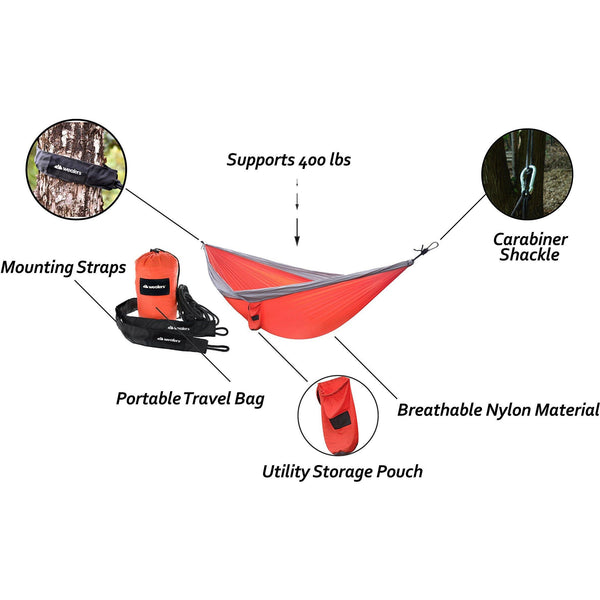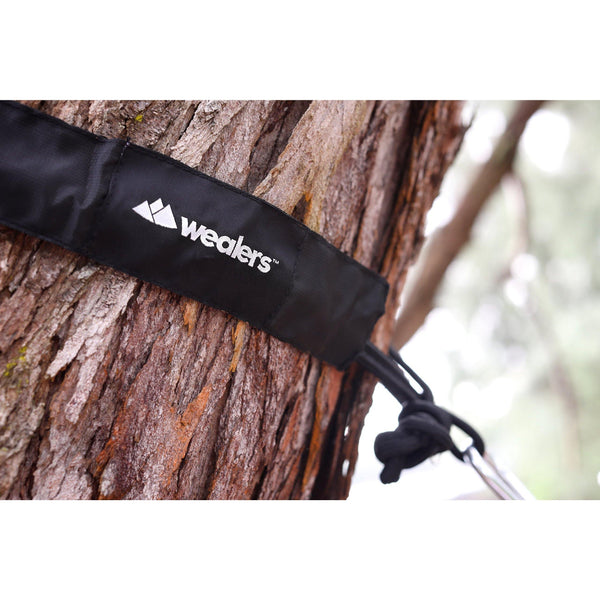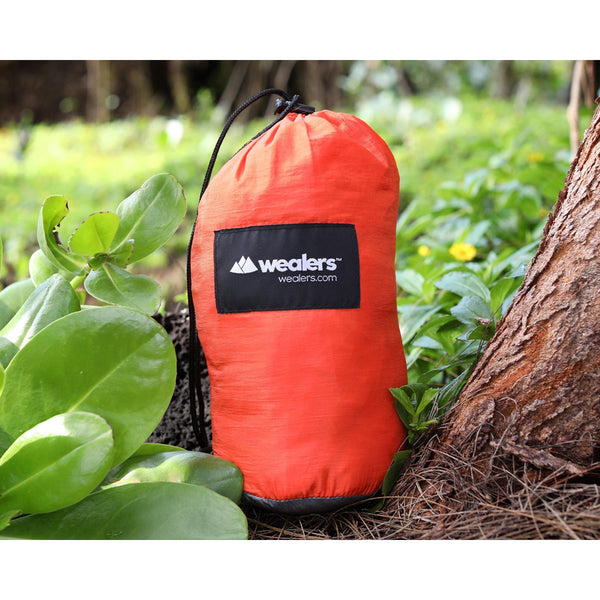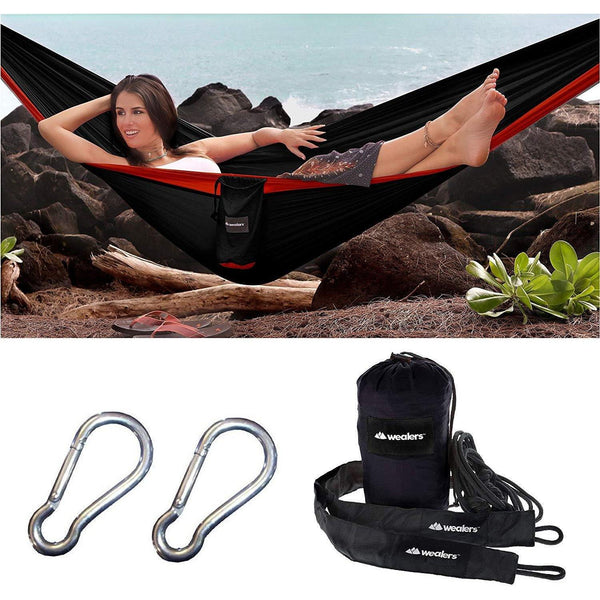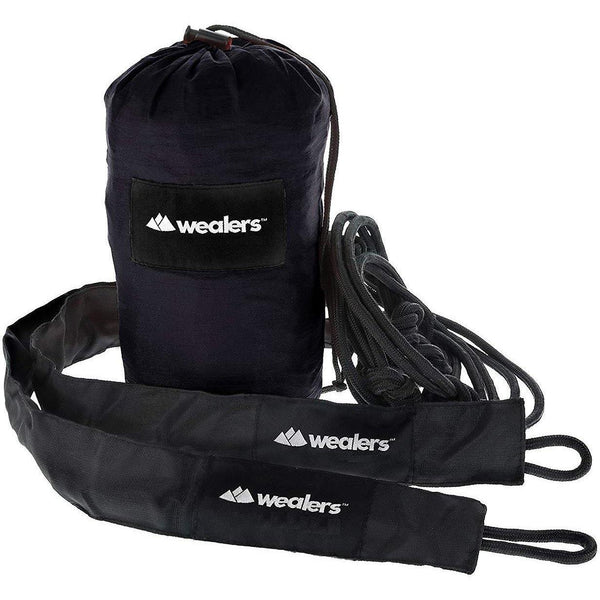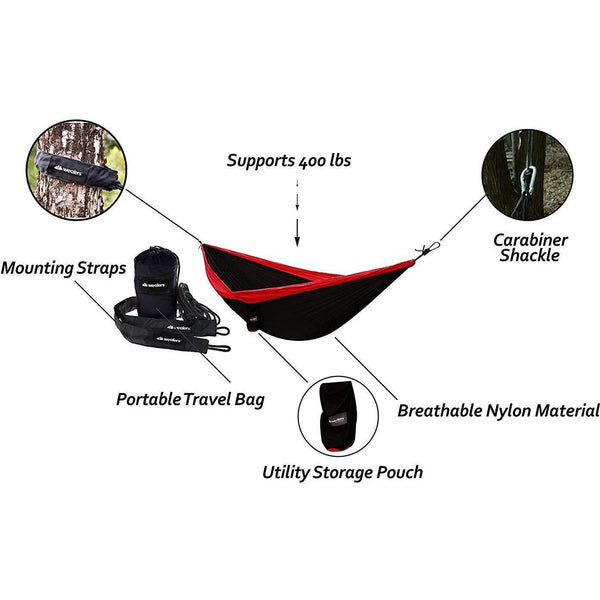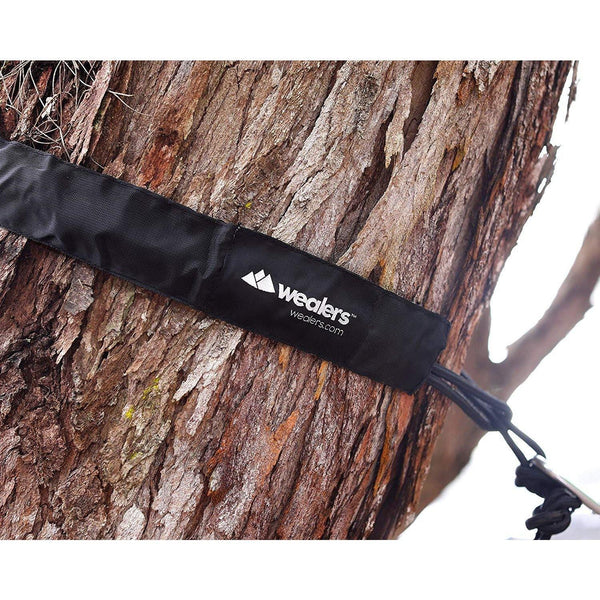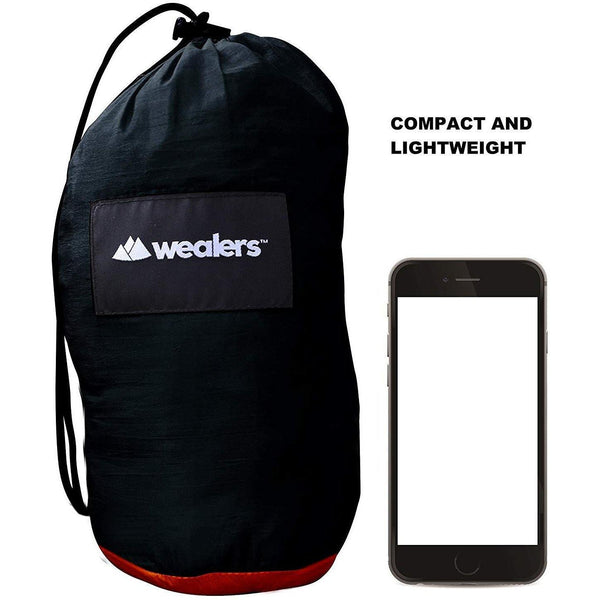 An absolute must-have for all outdoor extraordinaire! 
Wealers high-quality hammock is suitable for numerous outdoor applications. The perfect solution for camping
hiking, mountaineering and all extreme outdoor excursions. Comes with a trendy travel tote bag, rope, 2
carabiners and is also equipped with a utility pocket for cell phones, rations, cameras and other peripheral devices. So if you're into the great outdoors, lounging around all day basking in beautiful weather, reading or
taking cat naps, this is the perfect solution for

Perfect back yard lounger for relaxing days in the sun!
Awesomely fun vacation accessory for all to enjoy!
Excellent life of the grid companion for the outdoor personality!

Features:
- Durable nylon material built to endure extreme weather conditions
- A storage pouch perfect for auxiliary storage
- Weatherproof | Water resistant material
- Outdoor friendly
- Moisture retardant
- Lightweight | Portable

Includes:
- Travel Bag
- Hammock
- Rope
- 2 Carabiners
- 2 Mounting straps

Specifications:
- Can be directly exposed to water
- Hiking | Mountaineering | Cycling | Backyard lounging
- Nature treks | Cross country skiing | Camping
Bullet Points:
MULTIPURPOSE: The rugged hammock can withstand various weather hazards and threats and it can be used in multiple applications like; Camping, Hiking, fishing, mountaineering, boating, Base jumping and fishing. It offers the perfect solution for outdoor fanatics or people who simply love to bask in the sun.
DURABLE: Engineered with craftsmanship and built to last the hammock features tough, breathable, woven lightweight nylon material that will not rip or tear under pressure, and is guarantee to support up to 400 lbs. of weight. Made from breathable material that is moisture retardant and soft to the skin for the comfort you deserve.
EASY ASSEMBLY: No tools are required to mount the hammock. Easy connect and strap action will have you set up in no time. Simply scout out you napping spot, attach the solid steel carabiners, rope and mounting sleeves(Straps) to the hammock and selected trees, adjust to accommodate the appropriate comfort level and you're ready to go!
SAFETY: Measuring 9 feet 10 inches long by 6 feet 7 inches wide it conveniently accommodates two adults stretched out. Comfortably mount the hammock over any terrain; rocks sand or water, and be confident you can laze around or crash without falling through and hurting yourself on the rough terrain below.
PORTABILITY: The compact backpacking hammock is super lightweight at 30 oz. and perfect for all outdoor excursions! Equipped with a trendy travel bag, it is weightless and easily transportable. Sets up virtually anywhere! RELAXING: Enjoy the surliness of nature in this comfy relaxation and sleeping unit. Read a timeless book, or breeze off deep in the woods with the comfort of Dzfloating on air! Folds up into L6dz x W5dz pack! 90-day money back warranty!