5 Pc stainless steel Pots and Pans Cookware Kit for Camping and Kitchen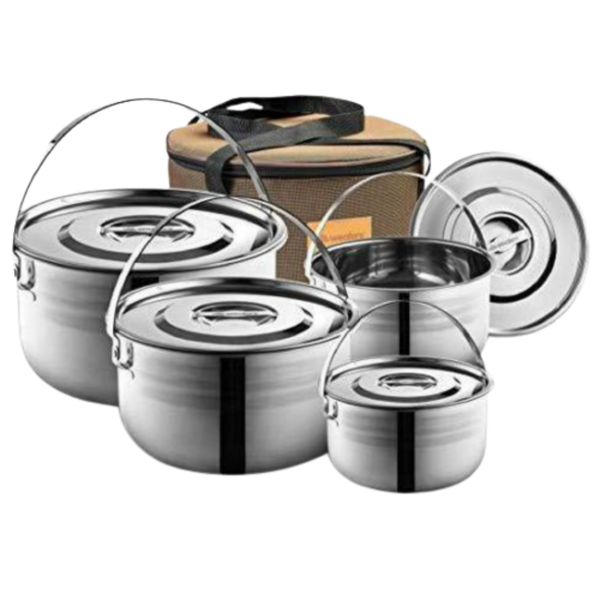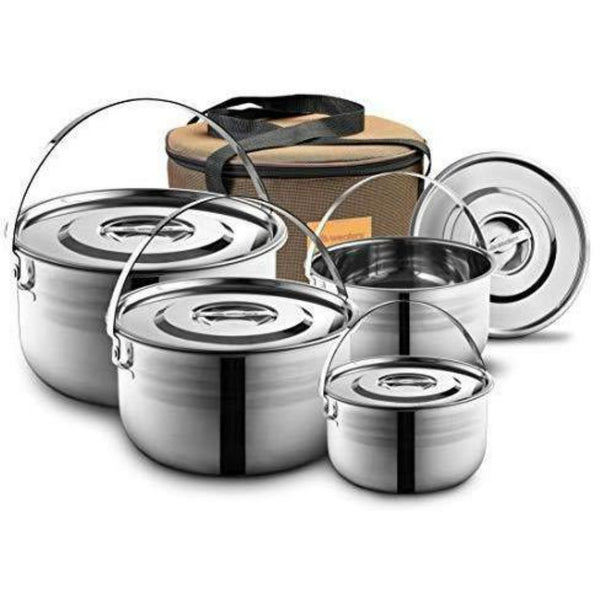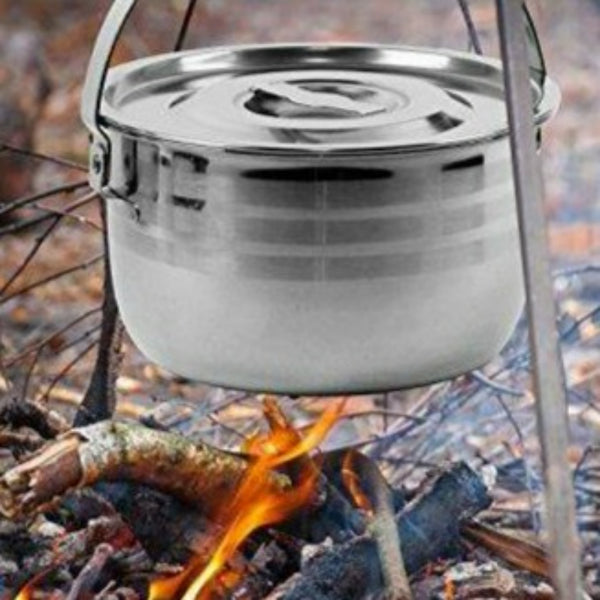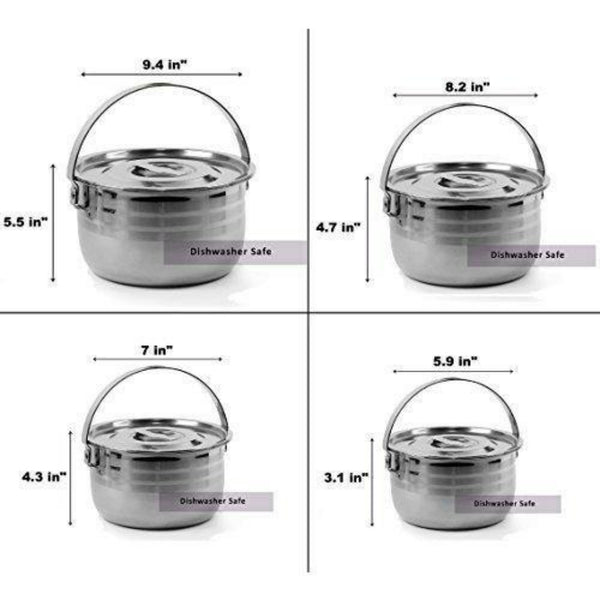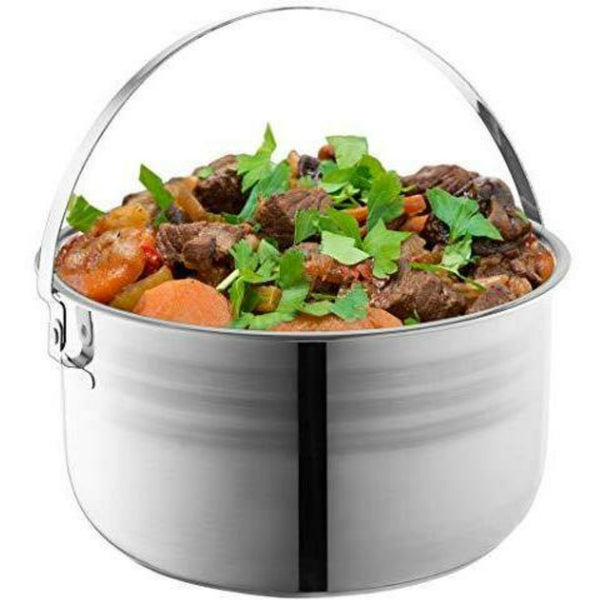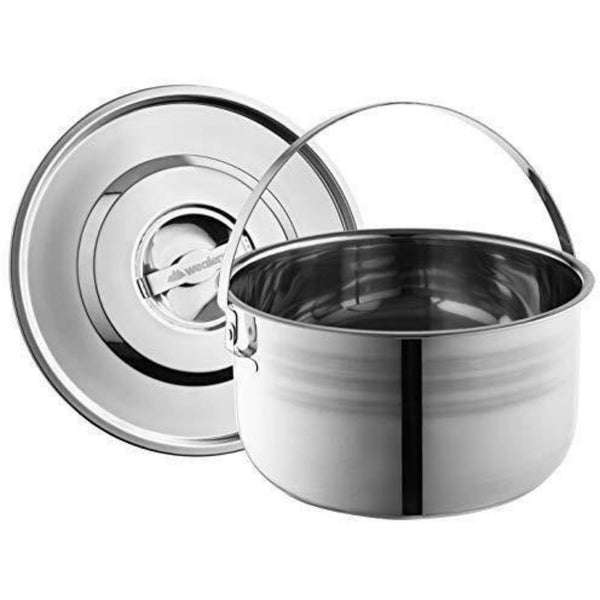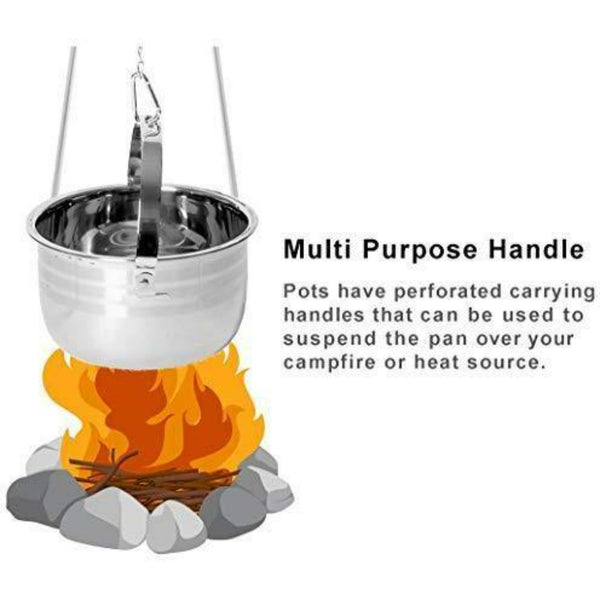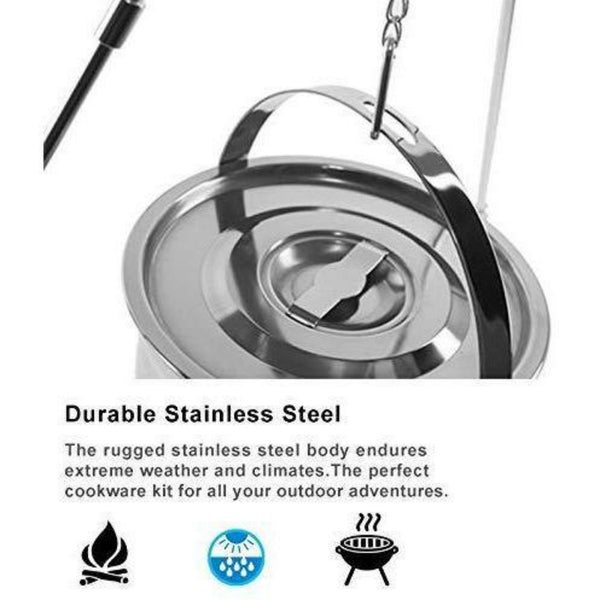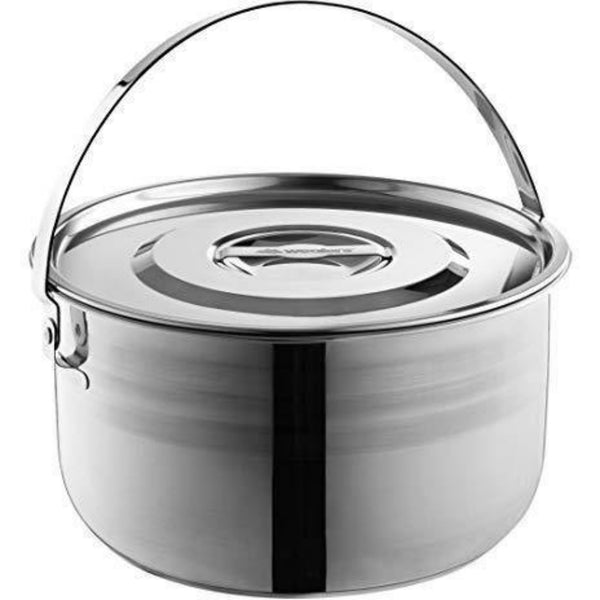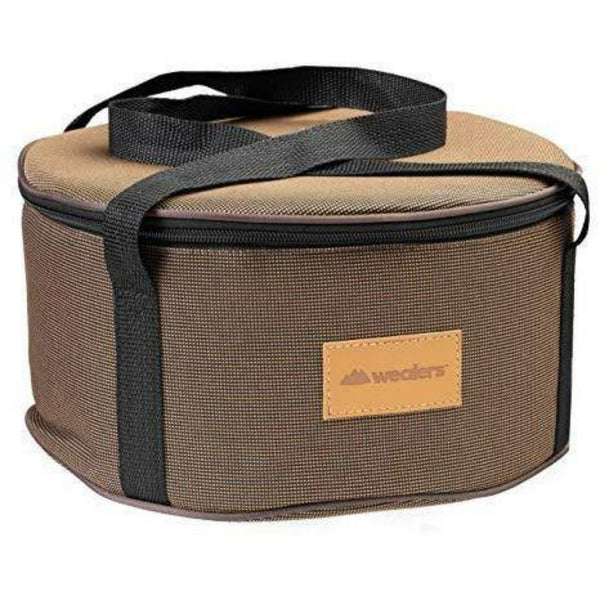 PORTABILITY: Lightweight engineering for those long treks through the mountains, a field trip with the kids or a day at the beach. Tote bag is equipped with comfort handles for smooth transportation of your cooking accessories.
OUTDOOR CHAMPION: Beach parties, mountain trekking or barbequing or overnighting in your buddy's back yard, the combo kit is perfect for cooking your favorite dishes away from home.
SPACE SAVER: Pots stack vertically in the travel bag for easy transportation or packing with other camping gear. Fitting an entire 5 piece cookware set into a tight knitted spot has never been so easy. Saves on valuable storage space when you need it the most!
COMPACT-ABILITY: The smaller pots conveniently cascade into the largest pot and pack neatly into the travel tote bag. Pot handles are perforated for hanging and suspending pots over open fires.
PRACTICAL:Get all the perks of expensive overpriced cooking sets with this all in one, rugged camping kit. Cleans easily and compliments your existing cookware utensils and décor. It makes a great gift set for loved ones who live for the great outdoors
Details: Enjoy life off the grid with this hefty stainless steel pot set!
Outdoor hobbyists and nature lovers can enjoy the ultimate camp kitchen experience with this
long lasting travel chef kit. Putting together the ultimate outdoor set up has never been so easy
and doesn't have to be time-consuming or expensive.
Having a good pot and pan set is essential for cooking quality meals at home and away. 
Make plenty of food so you can prepare awesome backpacking meals for your family and friends.
Our set makes outdoor cuisine fun and exciting for you and your colleagues. Makes a whole lot
of grub so you can dish out amazing food for everyone!

A superb space saver for those long trips, it stacks vertically, one inside the other.
So whether you're on foot, or traveling on wheels, the organizer cook kit keeps all your pots
in one location. After the party, the kit fits neatly into the garage or with your existing
kitchen utensils. Holds all of the main cookery items you could possibly need for your camp kitchen
Your Pots and Pans!"

Features:
- Perforated handles
- Easy to clean
- Lightweight
- Nonstick
- Stainless steel body
- (Six - Eight) 6 - 8 setting
- Top cooking performance
- Durable
- Backpack friendly
- Weather resistant

Pot Dimensions:
- Extra-large| LL6.5"| W9.4" | H5.5"
- Large | L4.5 | W8.2" | H4.7
- Medium| L 2.8 | W7" | H4.3"
- Small | L 1.5 | W 5.9" | H 3.1"

Includes:
- 4 Stainless steel pots
- 1 Travel tote bag