9 pc outdoor cookware kit - includes a stainless steel cutlery set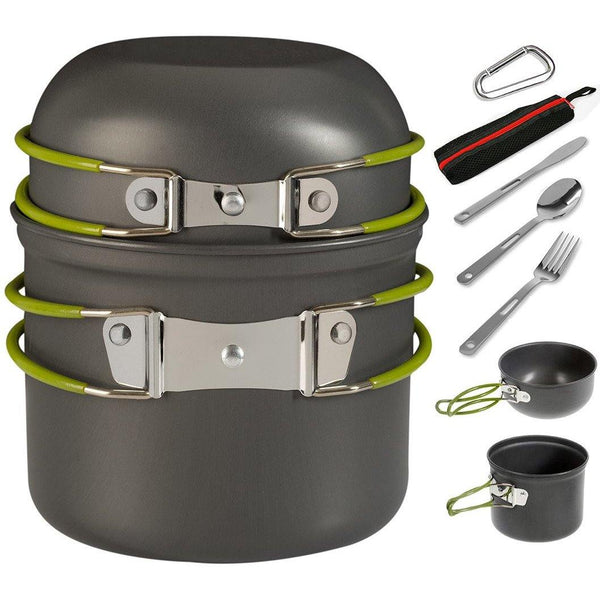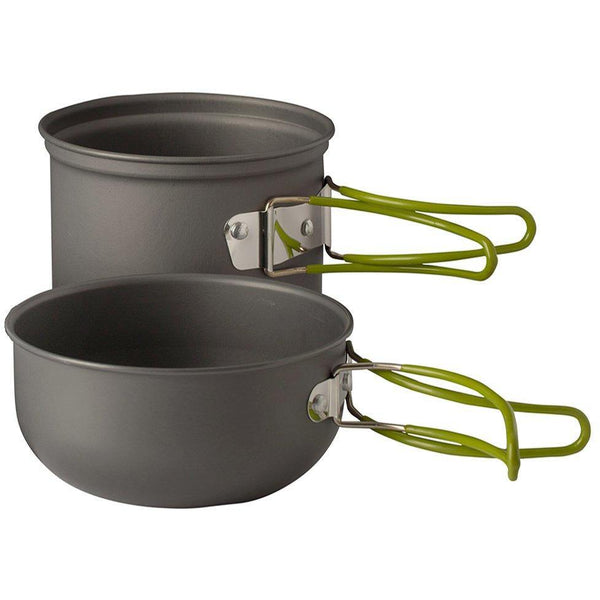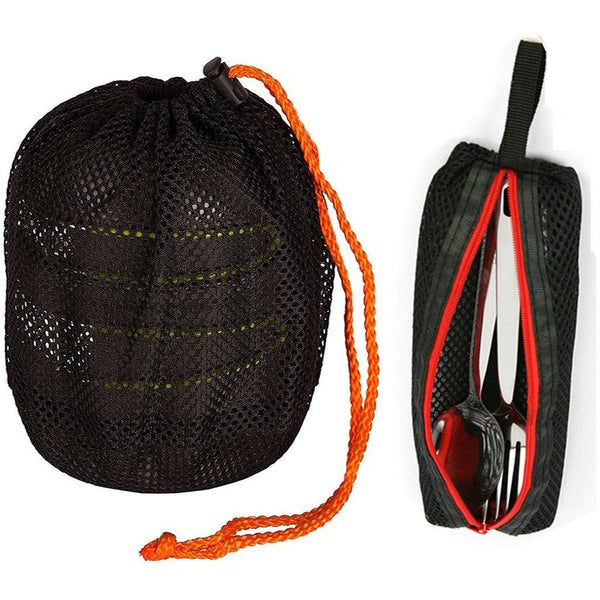 CAMPING SURVIVAL COOKWARE SET!
Our camping cookware set offers a hassle free outdoor dining experience for the entire family. The survival
set features a nonstick inside, and foldable handles that are perfect for easy transportation and storage.
The two pots pair together to form a versatile auxiliary storage unit for food and your camping essentials.
Prepare and serve well prepared, delicious meals on the go, and have yourself the enjoyable outdoor cooking
experience that you deserve.

Features:

SILICONE HANDLES: Features tempered silicone that protects your hands from burns.

EASY MAINTENANCE: Washes easily with soap and water and it is also dish washer friendly.

ULTRA LIGHTWEIGHT: Designed with quality aluminum alloy the post set weighs only 0.28kg

NONSTICK: Pots tolerate extreme heat without food sticking to the bottom and burning. 

FOLDABLE HANDLES: The multipurpose pots feature folding handles offering supreme compact ability.

PREMIUM COOKWARE: Pot set is designed to endure the rugged outdoors.

WEATHER RESISTANT: Pots are designed exclusively for outdoor use and make great kitchen cookware. 

SPACE SAVER: The two pots pair up together to form an additional storage unit for your nature trips.

Wealers BPA Food grade set offers reliable survival gear for all your outdoor cooking adventures and nature excursions.

POT DIMENSIONS:
- Medium: D5 in x H4 in
- Small: D4.5 in x H2.5 in

Includes:
- 2 Non Stick Pots
- Mesh Travel Bag
- Fork
- Knife
- Spoon
- Cutlery Case
- Carabiner
Bullet Points
#1 BEST COMPACT COOKING SET FOR CAMPING! 9 piece set suitable for 1-2 People.

When the cook set is fitted together (with the lid on the pot) for travel and storage, it contains room to carry a stove, matches, seasoning, salt, pepper, or a sponge and many other things to keep your overall space consumption to a minimum.

All the pot and pans have folding handles for space saving and compactness.

The handle is foldable and easy for storage, with silicone tube cover to protect your hands from burning. Each package comes with a mesh bag.

This set is perfect for camping, backpacking, hiking, emergency preparedness, or as part of a survival kit.