10 Pc Outdoor Cookware Kit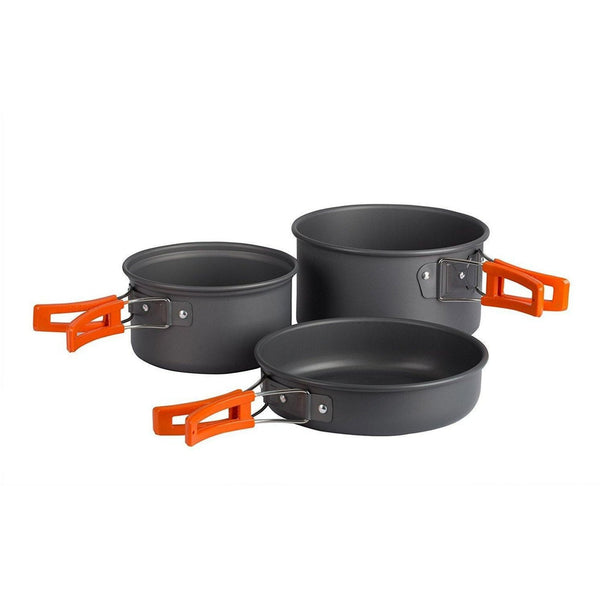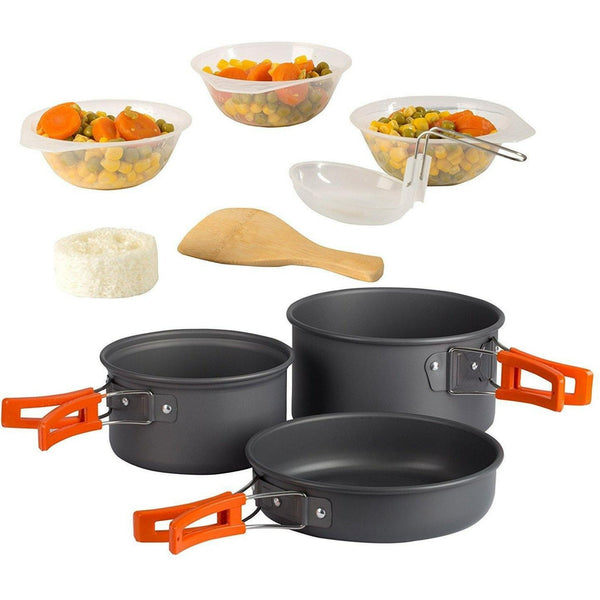 THE ULTIMATE 11 PIECE SET - EVERYTHING YOU NEED FOR COOKING OUTDOORS Each set includes 1 frying pan, 2 pots, 2 pot covers, 3 plastic bowls,1 soup ladle, 1 wooden spatula/turner, 1 cleaning sponge, and a mesh storage bag. The set is suitable for 3-4 people
INCLUDES STAY COOL, FOLDABLE HANDLES on each pot and pan.
COMPACT AND LIGHTWEIGHT FOR EASY PACKING AND TRANSPORT The entire set weighs just 1.7 lbs. Easily nest the pieces inside each other to save space (see photo).
Dimensions: FRYING PAN - approx.6.5 in/17 cm in diameter; 1 ½ in/ 4 cm H. SMALL POT - approx. 5.7 in /14.5 cm in diameter; 2.7 in/ 7cm H. LARGE POT - approx. 6.5 in/ 17 cm in diameter, 3.3 in/ 8.5 cm H. BOWLS - 4.33 in/ 11 cm in diameter x 1.57in / 4 cm H. Weight for entire set 1.7 lbs /755 g. Made of hand anodized aluminum alloy
PREMIUM PERFORMANCE HAND ANODIZED COOKWARE Non-stick, anti-scratch, and unmatched in quality, durability, and superior cooking performance. Equip yourself with the best in outdoor cookware!
Product description
Cooking outdoors is now better and easier - thanks to Wealers! This quality cooking set has been carefully designed to be durable, lightweight, and a pleasure to use. We've paired premium cookware with convenient utensils, all offered at a most fantastic price. This is one set you don't want to miss! 

Package Includes: 
1 Frying Pan - approx.6.5 in/17 cm in diameter; 1 ½ in/ 4 cm H. 
I Small Pot - approx. 5.7 in /14.5 cm in diameter; 2.7 in/ 7cm H 
1 Large Pot - approx. 6.5 in/ 17 cm in diameter, 3.3 in/ 8.5 cm H 
2 Pot Covers 
3 Plastic Bowls - approx 4.33 in/ 11 cm in diameter x 1.57in / 4 cm H 
1 Soup Ladle 
1 Wooden Spatula/Turner 
1 Cleaning Sponge 
1 Mesh Storage Bag