16 Fishing Rod Holder Storage Rack Fishing Pole Stand Garage Organizer Space Saver, Designed to Holds Any Type Rod Hiking Sticks Will Keep It Steady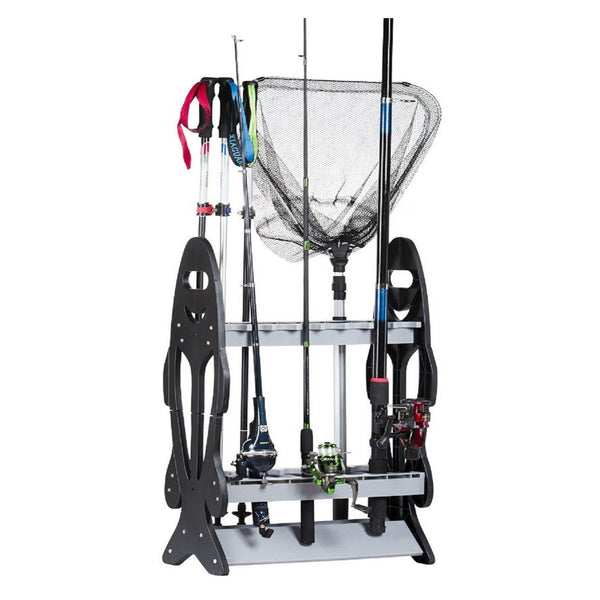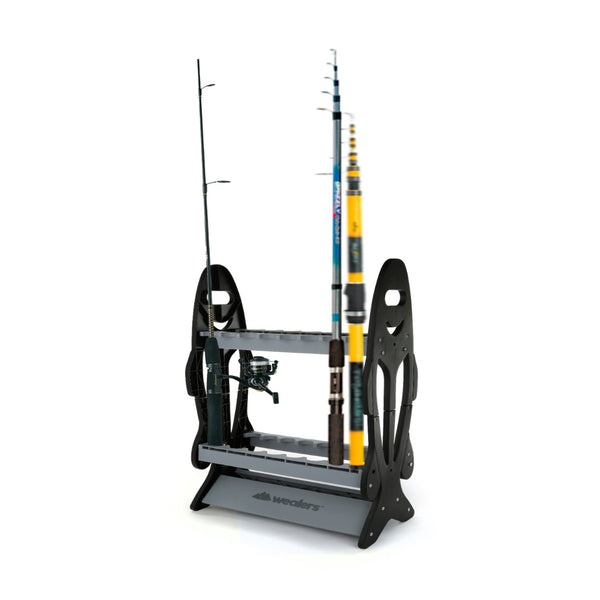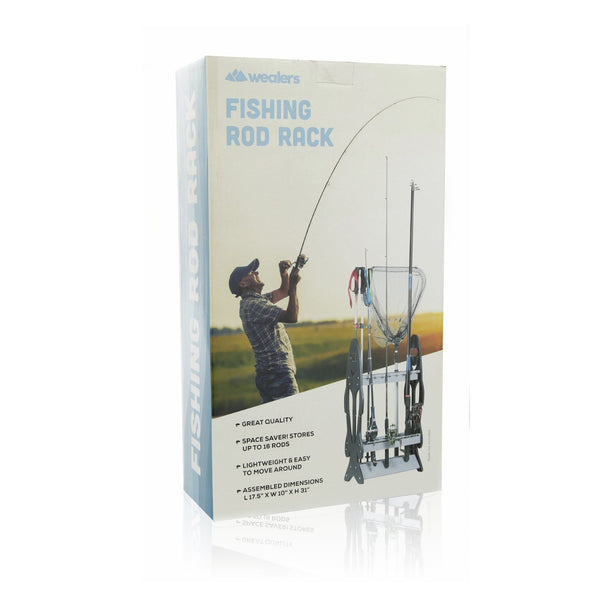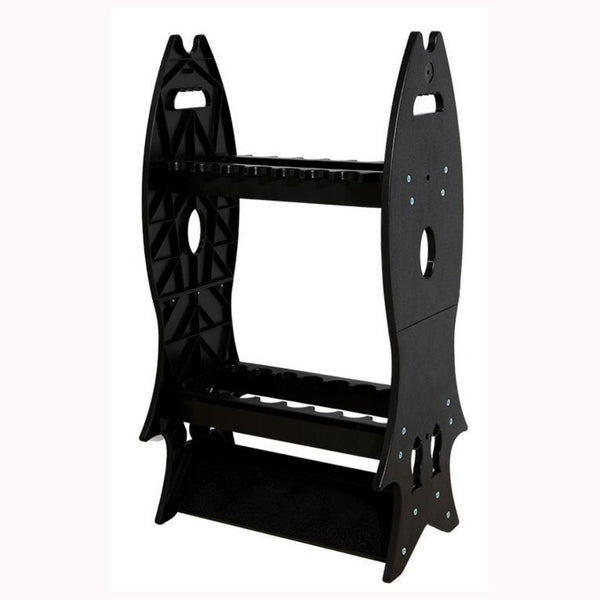 MULTIPURPOSE: The organizer rack offers storage on both sides, and holds up to hold 16 rods or poles simultaneously. It secures and protects your pool cue sticks, fishing nets, ski poles, croquet poles, golf clubs, fishing rods and more.
ANTI-WEAR: Weatherproof frame is made with quality plastic and designed exclusively to endure the elements. Perfect for garage and pool storage, parts are rot and corrosion resistant and the stand retains its beauty over the time.
SPACE SAVER | ORGANIZATION: Designed with a sturdy base, it holds all your poles and reels in one convenient, easy to reach and highly visible spot, that provides you with simplified, hassle free storage.
EASY MAINTENACE: The products non-abrasive surface cleans easily with mild soap and water, and the stand has a high resistance to mold and mildew. Assembled dimensions:44cm x 25cm x 80cm and includes instruction manual.
STURDY BASE | SOLID DESIGN: Features an extra secure base that holds your equipment upright and neatly organized. Constructed with durable parts that offer you a quality product with a healthy lifespan.
Wealers compact rod organizer rack provides an inexpensive solution to storing all your sporting rods and poles. It offers woodsmen, fishermen and outdoorsmen an excellent, easy to use a storage container that can be set up virtually anywhere.

UNIVERSAL STORAGE: Offers an effective storage unit for Boat, RV, Garage, Pool area and more.

PROFESSIONALGRADE: Stores and protects your costly fishing rods and equipment from damage.

ULTRA STURDY: The fishing rod stand provides a secure organizer to store your sporting rods.

SPACE SAVER | ORGANIZATION: The compact holder offers essential foot space in tight spaces.

EASY ACCESS: Secures all your rods in a highly visible location for easy retrieval of your equipment.

ALL PURPOSE RACK: Holds pool cue sticks, ski poles, croquet poles, golf clubs, fishing rods and more.

DOUBLE SIDED STORAGE: The rod holder conveniently holds eight rods on each side of the unit.

LIGHTWEIGHT | PORTABILITY: The stand is easy to maneuver and sets up in virtually any location.

MOLD RETARDANT: Material washes away easily and resists unsightly mildew and mold buildup.

ASSEMBLED DIMENSIONS: L17.5" in x W12.5" in x H31.5" in

INCLUDES: 1 Collapsible Fishing Rod Stand