Dry Net Mesh Insects Food Screen, 4 Layer Outdoor Hanging Camping Organizer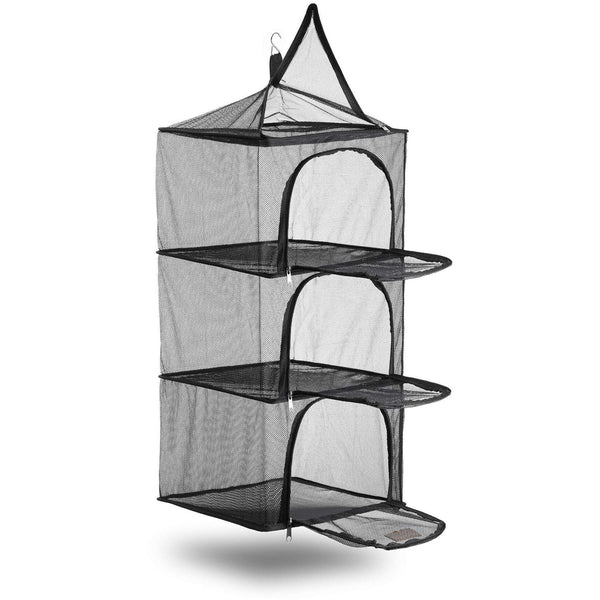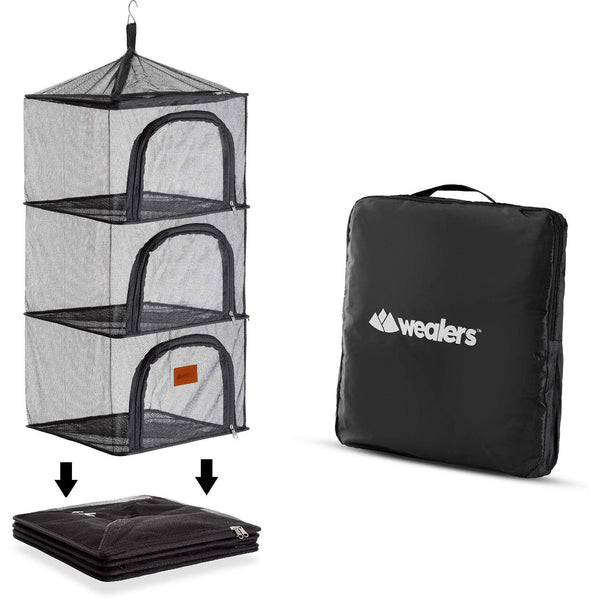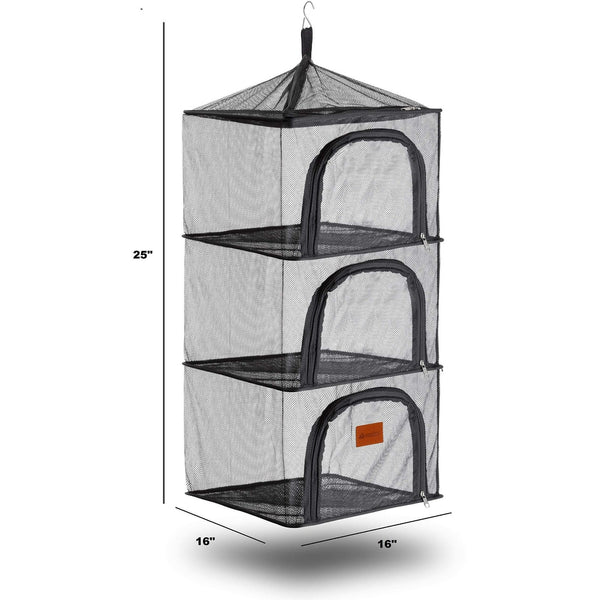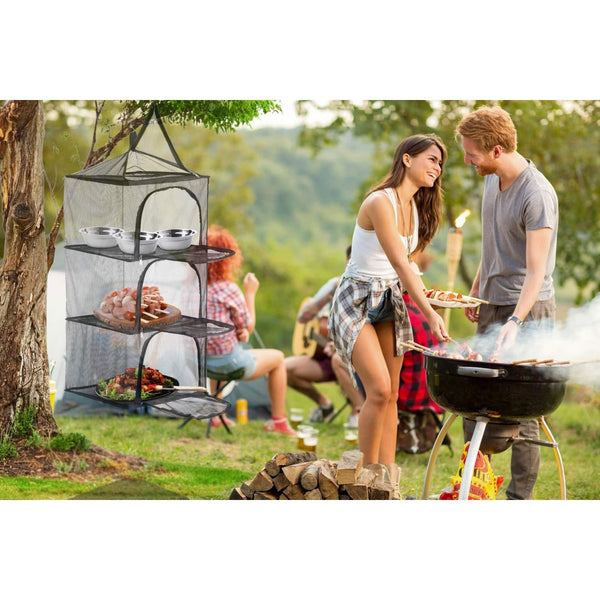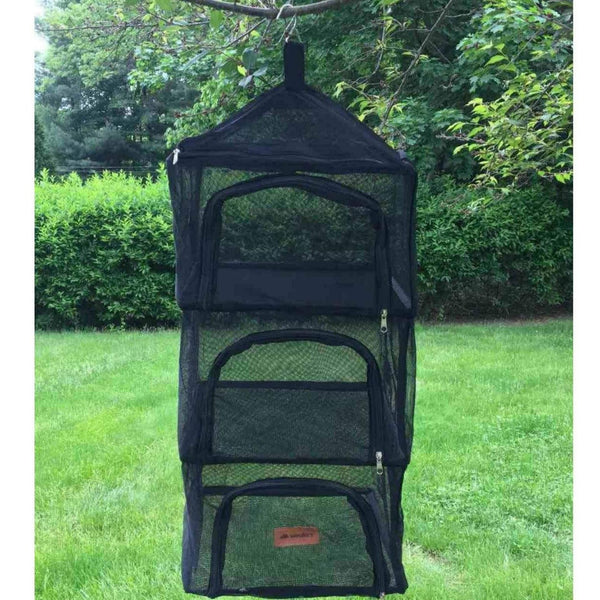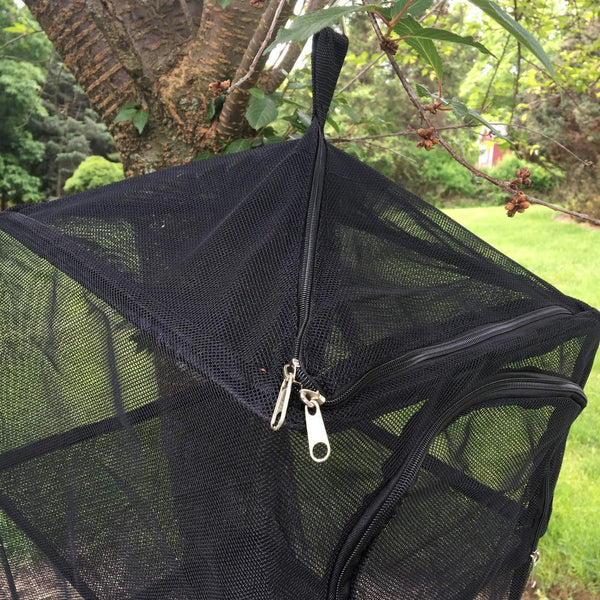 WEALERS 3-LAYER MESH FOOD COVERS
Why let the uninvited guests (insects) contaminate your food and spoil the outdoor dining fun? Instead have peace of mind knowing that your outdoor party food is well protected while your guests arrive, or while you indulge in other fun pre-lunch activities, or wait until your remaining food gets grilled.
BEST-IN-CLASS FOOD HANGING DRYING RACK
- 3-tier or 3-compartment design makes it easy to segregate or group items wisely such that you can easily fetch what's needed while also getting a generous covered storage space
- Premium zippers are strong, durable & easy to slide – sure to operate new-like in the long run
- Durable build doesn't wear, tear or rip easily, and the mesh itself can be easily cleaned by hand wash
- Base of each level has sufficient load capacity to reliably support food pots or plates
COMPACT & TRAVEL-FRIENDLY
Collapsible design measures 16 x 16 x 25 inches when open, and folds into a compact form (measures just 16 x 16 x 2 inches) for portability & storage, while the INCLUDED CARRY BAG with handle makes it further easy to carry along for all your outdoor or travel needs.
IDEAL DISH DRYING RACK
Highly breathable mesh & multi-level design make it equally suitable for dish drying – micro mesh allows sufficient air circulation for drying dishes while also preventing ingress of unwanted insects, which could otherwise waste all your efforts of thoroughly cleaning the plates
BUGG OFF YOU INSECTS – YOU AREN'T WELCOME 
Keep your cooked food pot inside the mesh cover to ensure that uninvited guests, i.e., bugs, flies, mosquitoes or other insects don't get to reach to your food before you, which could otherwise make it unwelcoming for the guests
- Slide in the fruit plates, starters, grilled chicken, or dessert plates as well, and prevent myriad of pests from relishing (rather contaminating) your food – would you eat a piece of meat if you spotted a few flies sitting on it?
CAMPING CLOTHES ORGANIZER
Hang your clothes during camping and have them quickly dried using highly breathable mesh compartments – Ideal for linens, towels, inner-wears, shirts, pants, shorts, etc.
- Take out your clothes from the carry bag and store them in this multi-mesh compartment to ensure that you can quickly fetch what's needed – see-through mesh design furt
- Good air circulation helps keep your clothes odor-free
VERSATILE DESIGN
Multipurpose hanging drying rack is a perfect choice for drying herbs and preserving them, for drying fishes while maintaining a high level of hygiene, for food sanitary needs during camping, hunting, fishing, BBQ parties, Cookouts, Picnics or other such adventures.
A beautiful gift for any outdoor eating or cooking enthusiast.
ESSENTIAL OUTDOOR FOOD HYGIENE – Keep pesky insects, bugs, flies and mosquitoes off your food to prevent any pathogens from getting transferred to it, which could otherwise result in a wide range of adverse health problems, and ensure that all consumables are safe during outdoor dining – our food net cover is ideal for use as a BBQ food outdoor cover, camp food cover, picnic food covers mesh, camping organizer, and for use during cookouts, fishing, hunting, etc.

FUNCTIONALLY EFFECTIVE – With 3 layered MULTI-COMPARTMENT design, wherein each compartment has its own zipper, you can organize your food items easily, and get easy access to what's needed by simply opening the corresponding zipper. Moreover, the generous capacity of each compartment, strong build, sufficient load capacity, breathable high density mesh that allows air but no insects, and heavy-duty smoothly running zippers make these unbeatable food covers for outdoors.

VERSATILE FOOD SCREEN – Equally suitable for use as a Herb Drying Rack, Dish Drying Mesh, or a Fish Drying Rack, this mesh hanging drying rack or net cover for food offers generous surface area for drying tasks, the fully covered design prevents the herbs from flying away in gusty winds while also helping avoid any inadvertent drops of stored products due to nudging by kids or notorious pets. And not just outdoors, these net outdoor food covers are also perfect for use inside the home.

COMPACT, TRAVEL-FRIENDLY & EASY TO USE – Made using Nylon & Polymesh, not only are these mesh food covers for outdoors strong & durable but also Lightweight, and the collapsible design (folded size: 16 x 16 x 2 inches, opened size: 16 x 16 x 25 inches) along with included storage bag further improves the ease of carrying it along for all outdoor activities. Moreover, the fact that these food nets for outdoors can be easily hand washed makes these reusable & long lasting.

GUARANTEE – With our 100% RISK-FREE SATISFACTION GUARANTEE on these outdoor food covers you have got nothing to lose! However, we are quite sure that you will be impressed with this hanging foldable food screen that offers a superior alternative to food umbrella mesh cover, can be easily hung almost anywhere, and offers necessary protection to your food for best sanitary practices, while also ensuring that it is easy to put in and take out food with the help of zippers.