Stainless Steel Charcoal Grill - With Stainless Steel travel kit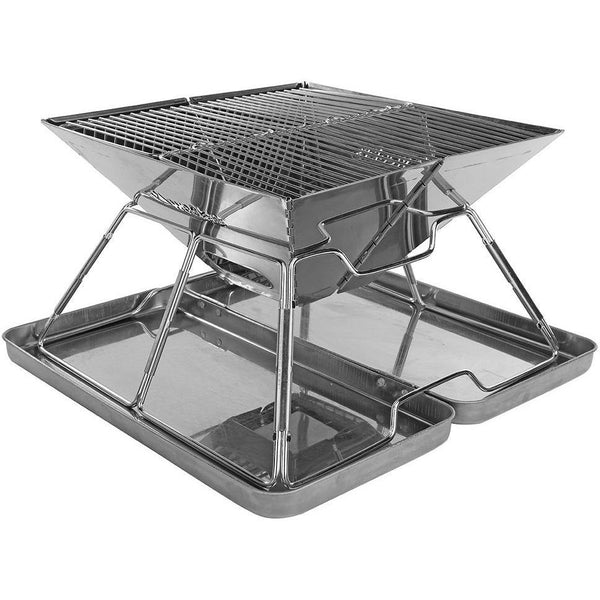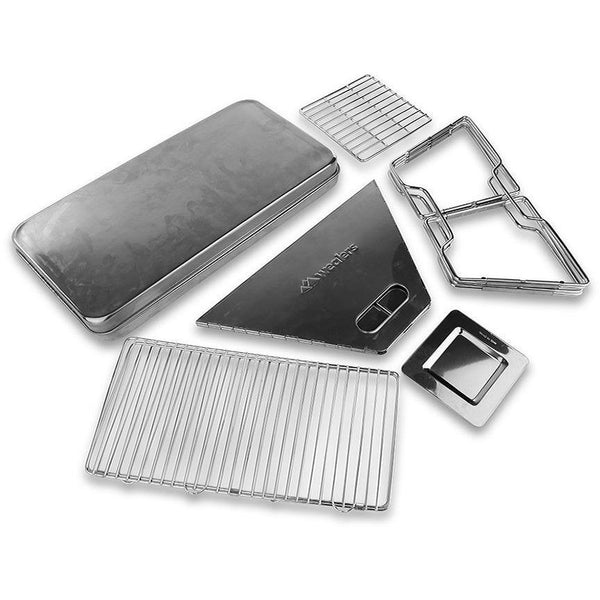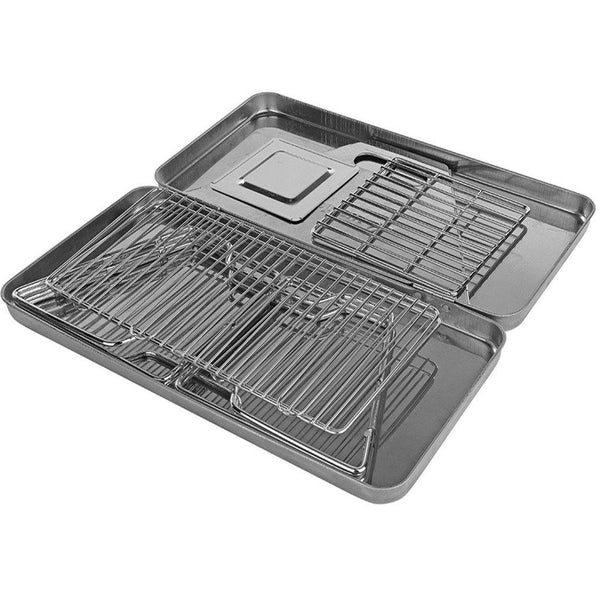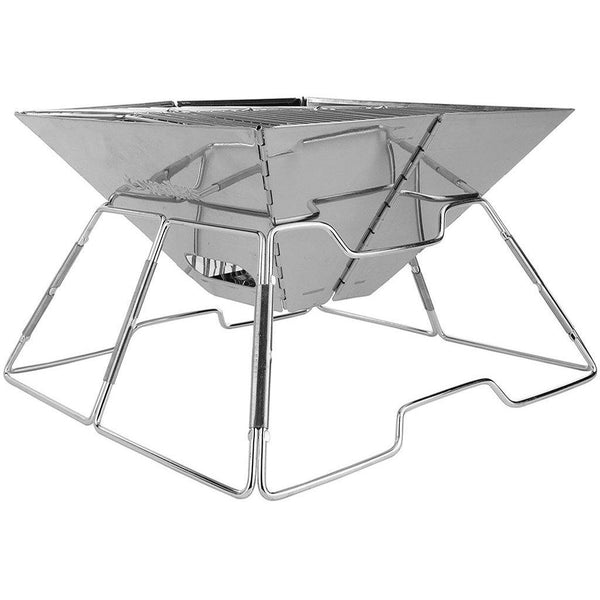 HEAVY DUTY: Constructed with stainless steel for outstanding durability and performance. Can be fueled with wood, charcoal or coconut husks | Excellent searing capability. Kit includes additional stainless steel protective case.

OUTDOOR CHAMP: Use the grill set on any terrain or in any weather: Sandy, rocky, dirt or grass turfs. Take it camping, to the beach or to your next hike through the open mountains. Its no holds bars for this fully functional cooker, that brings excellence to the picnic or barbecue table..

DETACHABLE PARTS | COLLAPSIBLE: Unit assembles easily without the use of any tools, and conveniently breaks down for easy transportation and storage in the included tote bag.

PORTABLE | LIGHTWEIGHT: Measuring 12.5" x 12.5" x 8.5", it folds neatly into the sleek travel case and it is super easy to transport. Unlike other commercial brands, it is not bulky and occupies very little room for storage virtually anywhere

MODERN | PRACTICAL: The trendy grill kit is both cost efficient and built with a new agedappeal; it is capable of producing top grade, finger licking good BBQ like its more expensive native cousins.
Product description
Outdoor Barbeque Grill Champ!

Outdoor hobbyists and nature lovers can enjoy the ultimate cookout, barbeque experience with this 
long lasting travel grill kit. Putting together the ultimate outdoor set up has never been so easy and
doesn't have to be time-consuming or expensive. 

Having a good grill is essential for cooking quality meals at home and away. Tough stainless steel 
along with quality engineering allows Wealers barbeque grill to fire up some of the best BBQ you 
will ever taste.

A low gravity stand holds the grill safe and sturdy so it doesn't tip over. It sits firmly on any turf 
or terrain; rocky, sandy, grass or dirt surfaces. Our grill is top notched and works just as well as 
expensive brands on the market. Make plenty of food so you can prepare awesome barbeque 
treats at your next beach party. 

The grill set makes cooking outdoor cuisine fun and exciting for you and your colleagues. So 
whether you're hiking on foot, or traveling on wheels, the barbecue kit neatly breaks apart
and transports in the travel tote bag. After the party, the kit fits harmoniously into the garage 
with your existing tool chest and accessories.

INCLUDES:
- Collapsible BBQ grill
- Travel bag
- Stainless steel protective case

FEATURES:
- Foldable | Collapsible
- Lightweight
- Water Resistant
- Durable
- Stainless Steel - Comfort grip handle

SPECIFICATIONS:
- Stainless steel
- Assembled | L12.5"| W12.5"| 8.5H" 
- Disassembled | L13.5" x 7.25" x 2.25"