12 Piece Camping Silverware Mess Kit For 2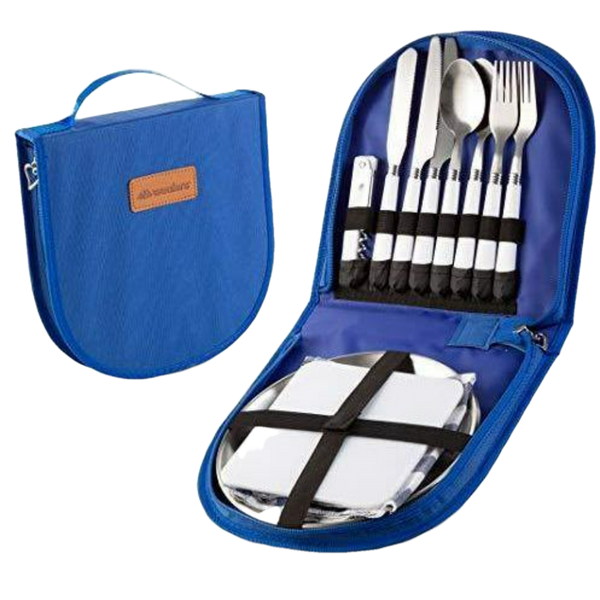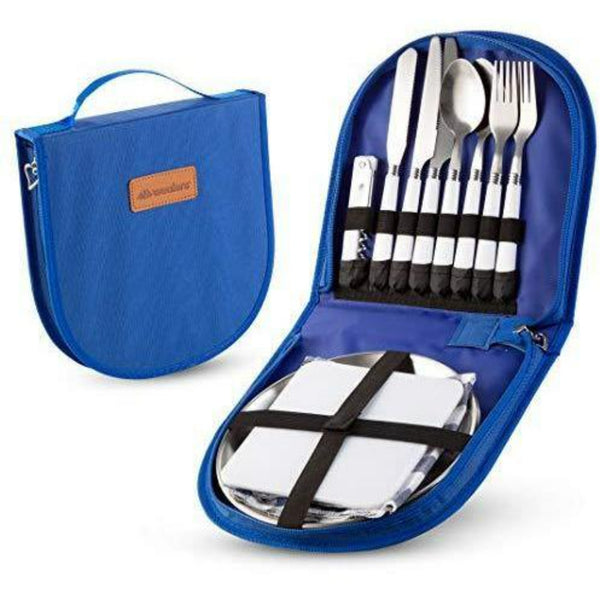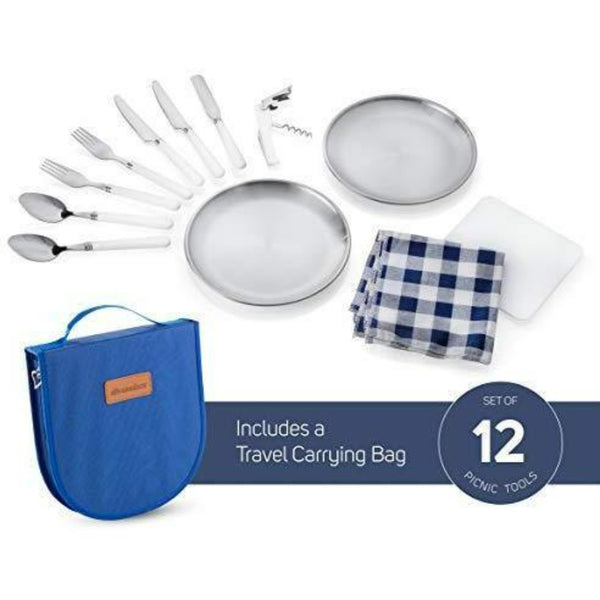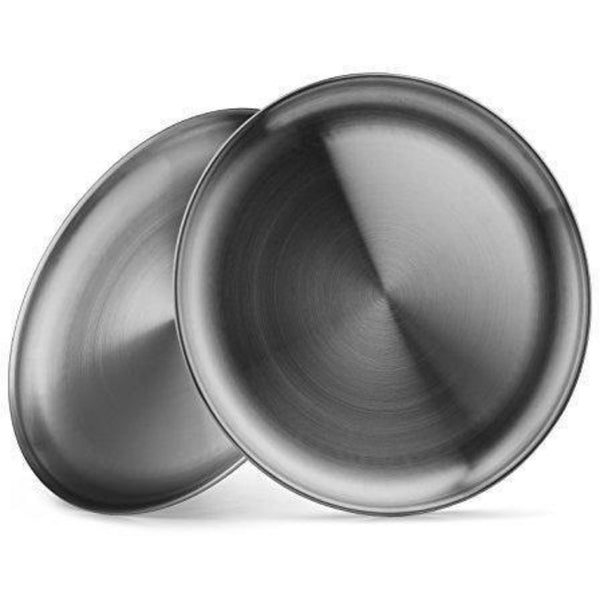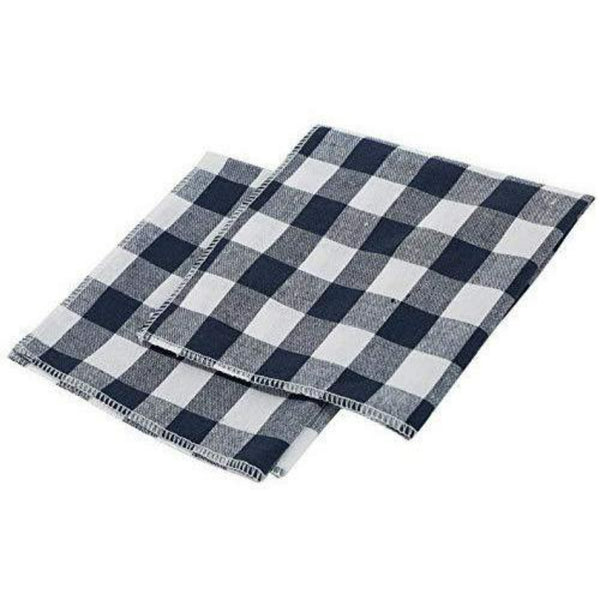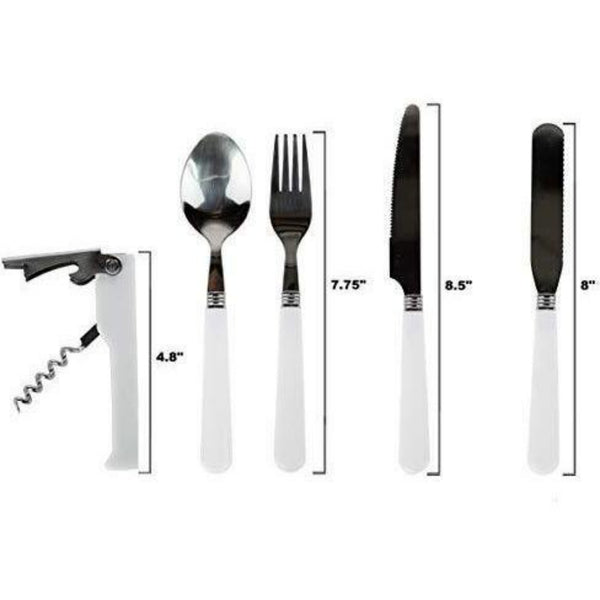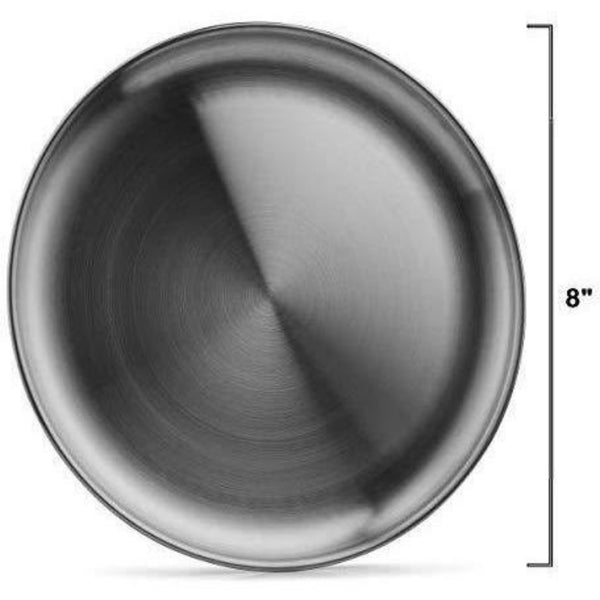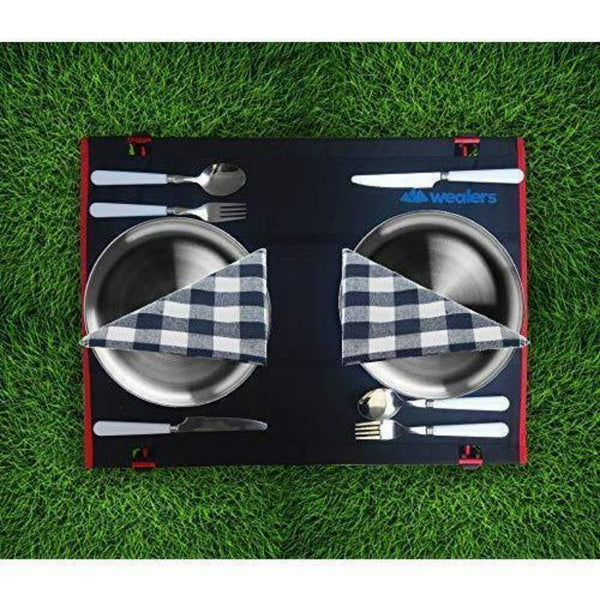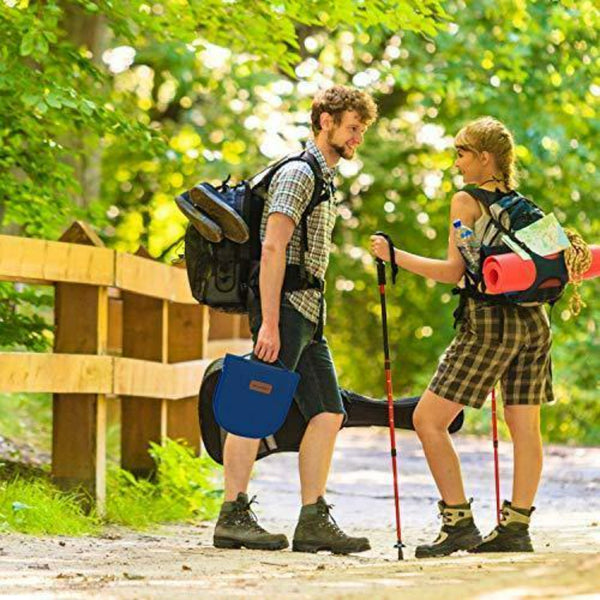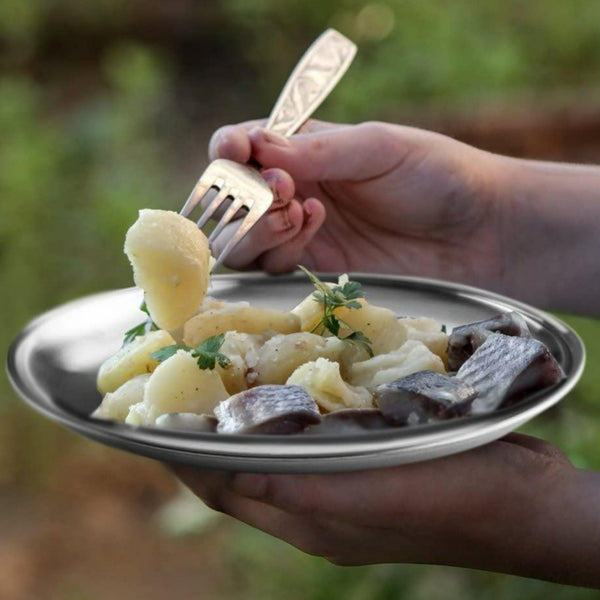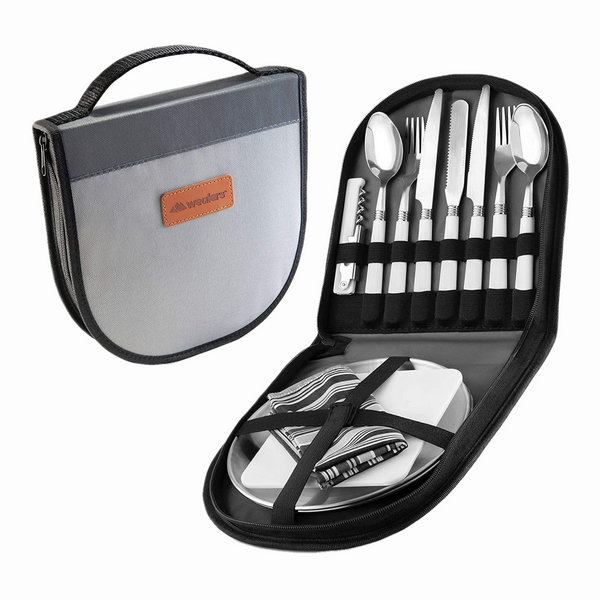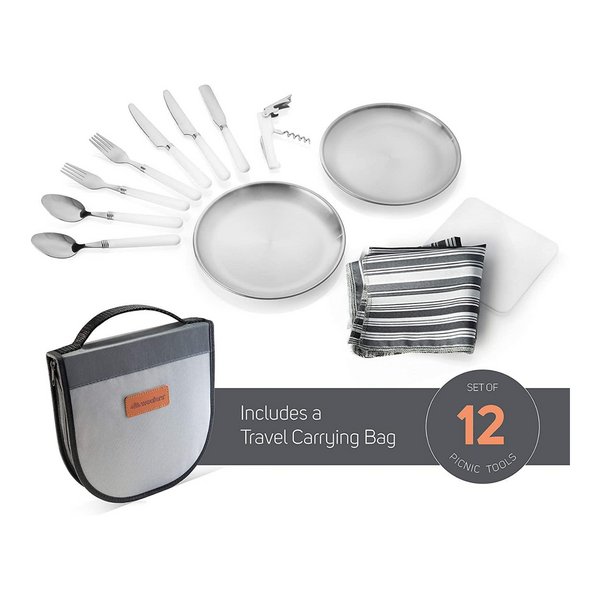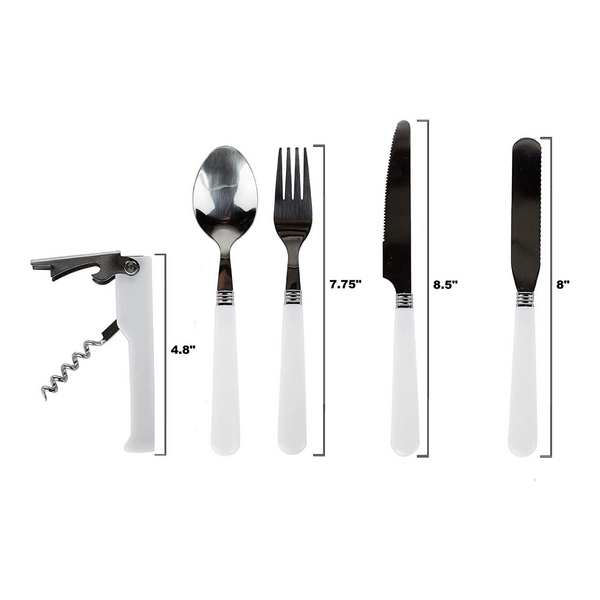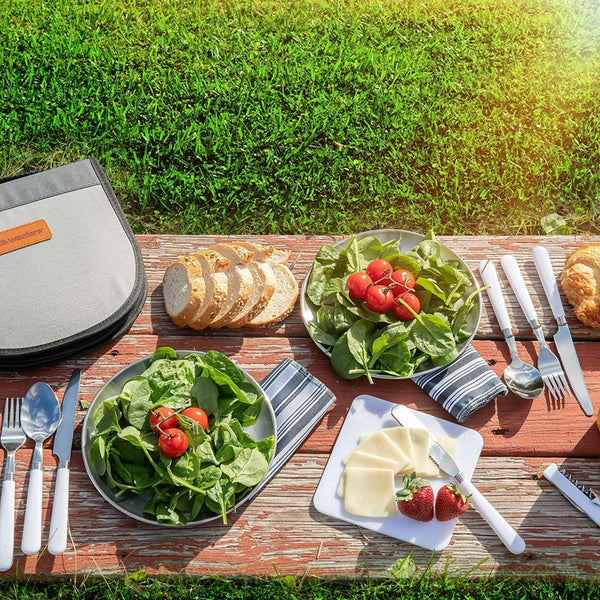 MULTIPURPOSE: Holds all your essential eating utensils safely in one secure location, as things can easily get misplaced easily in the great outdoors. The product is brightly colored and easily recognizable in all surroundings. Set includes; 2 forks, 2 Spoons, 2 knives, 1 butter knife, 2 8" Stainless Steel dinner plates, 1 cutting board, and 1 bottle opener with 2 checkered table napkins. Perfect for camping out or picnics in all weather conditions.
TRENDY: A contemporary design with a woven pattern it's sure to be a hit at your next romantic getaway, boat ride, barbeque, or camp. The kit blends in nicely with existing dinnerware décor and adds a vibrant splash of color to your spread no matter what the occasion. Romance, business, or pleasure, the sleek cutlery set is sure to set the perfect tone, and lets you dine in style, Also an excellent space saver for tight spots with limited room.
DURABLE | RUGGED: Made with a tough canvas and polyester exterior, padded, and its inside lined with a breathable material. This protects your utensils from damages due to weather and accidental falls. Each utensil has a dedicated compartment, and cutlery stays sturdy without clattering during transportation. Suitable for all weather-related applications: Icy, hot, or rugged terrain. Its no holds bars so you can set up and comfortably enjoy an awesome dining experience for two.
PORTABLE | TRAVEL FRIENDLY: The ultra-lightweight set can be taken virtually anywhere of your choice. Perfect for a candlelit dinner for two by the lakeside or a quiet backyard brunch with that special someone. Have a picnic at the beach, park, sporting event, BBQ, Camping out, Hiking or mountaineering. Fits neatly into travel luggage or it can be handheld (Built-in handle).
SIMPLE MAINTENACE| STORAGE: Cleans easily with a damp cloth. Simply wash, dry, and reload the kit with the included cutlery, and you are on your way. Item stores away easily in closets, Bins and it matches our existing kitchen dining decor.
The Perfect Travel Cutlery Kit for everyday use and special occasions!
The Trendy kit makes an awesome camp kitchen accessory, it is super portable and lightweight and equipped
with a nifty for effortless transportation. It is equipped with elastic utensil holders for your cutlery, and a strapped compartment for the bigger utensils.
The perfect kitchen accessory for all your outdoor events! Not only is the silverware more visible in the brightly colored case; it also adds a lovely accent, enhancing the appeal of your picnic table spread.
Tough Shell Enclosure
Made from quick-drying materials, it can be placed next to, or directly exposed to water. The case also provides layered protection for your silverware in the case of a fall, the polyester canvas outer shell casing prevents your cutlery from getting scratched, marred, or disfigured. The case is mildew retardant from direct exposure to moisture or liquid.
Excellent Space Saver and Storage
The kit takes up minimal space in your rucksack, glove compartment, or luggage carrier. Saves on essential room in tight areas, and it adds a colorful splash of contrast to your table spread. Holds all your silverware in one location for easy retrieval of your eating utensils.
Fashionable
The trendy kit makes a great table accessory for a dinner for 2; camping, BBQ's or backyard parties. Dine-in style at your next outdoor excursion with this trendy cutlery kit by Wealers.
Features 
Zip closure

Travel friendly

Protective case

Clatter Proof

Portable

 
Includes 
1 utensil travel kit

2 Forks

2 Spoons

2 8" Stainless Steel Plates

3 knives one is serrated

1 Wine/bottle opener

2 Napkin Towels
Package Dimensions: 10.2 x 9.3 x 1.7 inches