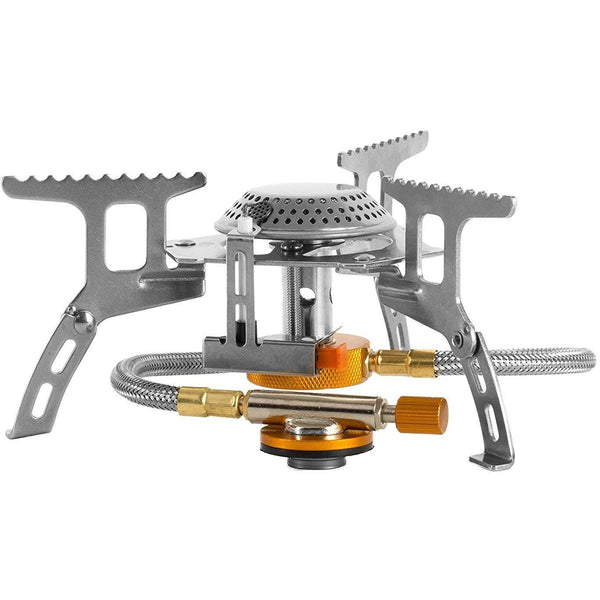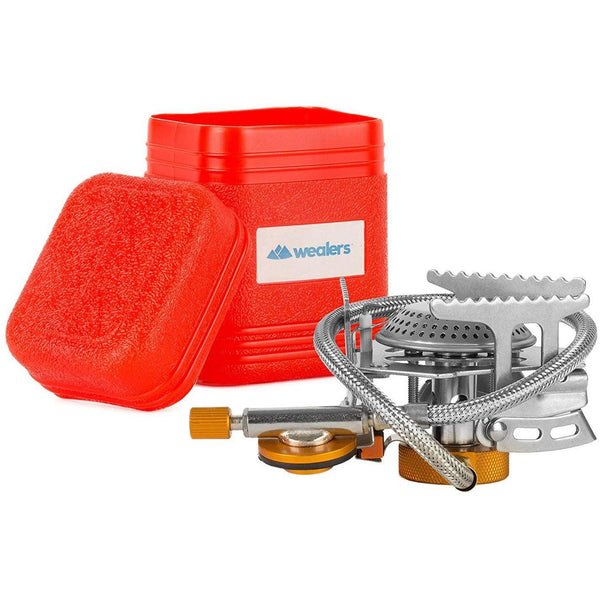 COLLAPSABLE | COMPACT: Built sturdy, equipped with a sleek folding stainless steel stand, and wedged with anti-skid radians that securely anchor your cookware. The perfect camp kitchen accessory for all outdoor excursions. Folded dimensions L3.25" x W3.25" x H2.45"

ERGONOMIC DESIGN | ADJUSTABLE FLOW VALVE: Manufactured for supreme efficiency, it can withstand extreme temperatures, and includes an adjustable valve to increase or decrease flame size, regulates gas flow, and effectively minimizes wastage.

ALL TERRAIN | ALL PURPOSE: The portable, lightweight hybrid stove can be used for an assortment of outdoor activities: Camping, Hiking, Beach, Backyard, BBQ or Fishing. Perfect for use in rugged outdoor conditions! (Wt. 9.7Oz)

WINDPROOF | FIRE STARTER: Produces a clean flame that burns effectively even in windy conditions. Includes a fully functional built in 3500W igniter, perfect for outdoor food preparation in turbulent or inclement weather conditions!

DURABILE | ECOFRIENDLY: Made with high quality alloy and steel, the foldable stove burns clean, leaving to harmful gases or fumes behind. Compatible with any 7/16 thread single butane/butane-propane mixed fuel canisters.
Product description
FULLY FUNCTIONAL MINI GAS CAMPING STOVE!

The portable folding stove is a travel friendly alternative to having an enjoyable outdoor cheffing experience in the serenity the great outdoors.
Perfect for life of the grid and super easy to set up, it's an absolute must have for all your ongoing outdoor adventures. Includes a nifty case
for travel and storage.

FEATURES:

CAMP KITCHEN ACCESSORY: An excellent addition to your cooking supplies, it allows you to effortlessly prepare your favorite dishes
and it will provide you with an excellent cooking experience every time!

COMMUTER FRIENDLY | PORTABLE: The travel sized mini stove folds down for sleek storage and fits invirtually anywhere; backpack 
hand bag, tote, luggage or knapsack.

ECOFRIENDLY | GREEN: Our product is environmentally friendly and produces a clean, pollutant free flame.

CONVENIENT | ALL PURPOSE: Provides the perfect solution for preparing awesomely wholesome meals in the great outdoors. Great for
aquatic events, camping, picnics, fishing

BUDGET FRIENDLY | QUALITY: With unmatched durability, and supreme quality, the stove provides an excellent alternative to cost
effective fully functioning product, without sacrificing cost for quality!

GIFT IDEA: Makes a great present for that special someone who embraces nature, and enjoys the surreal life off the grid and the great outdoors.

SPECIFICTIONS:
- Weight: 9.7Oz
- Material: Stainless Steel | Copper Alloy | 
- Picnics | Outdoor Festivities | Mountaineering | Hiking | Camp Kitchen

INCLUDES:
- 1 Collapsible Mini Gas Stove with Travel Case