ALUMINUM WINDSCREEN (10 PLATES)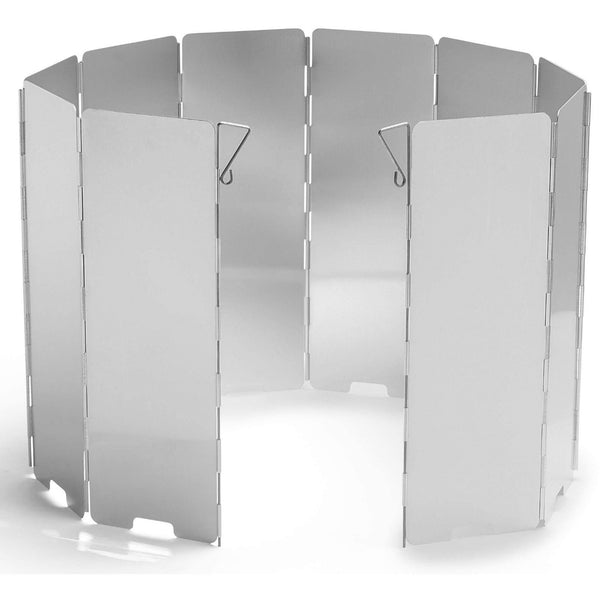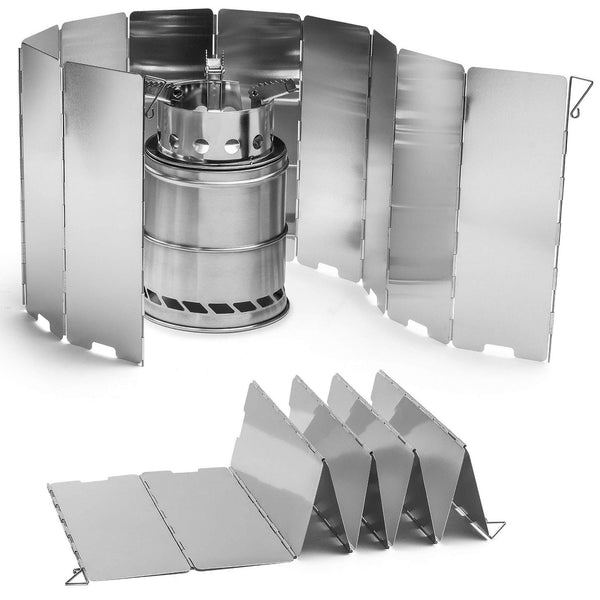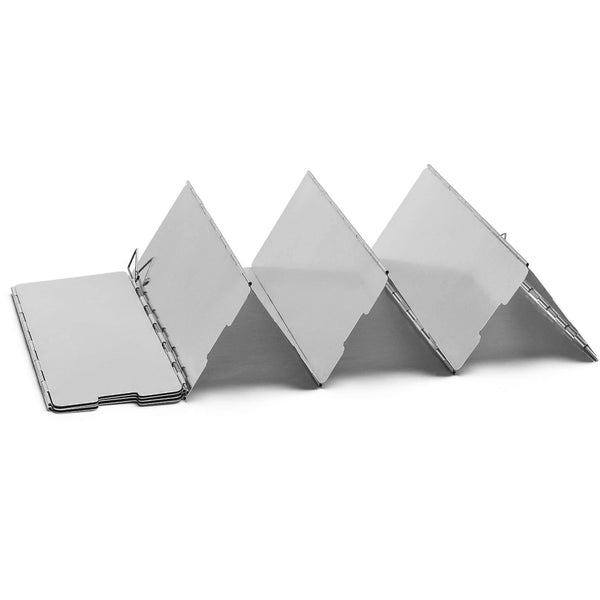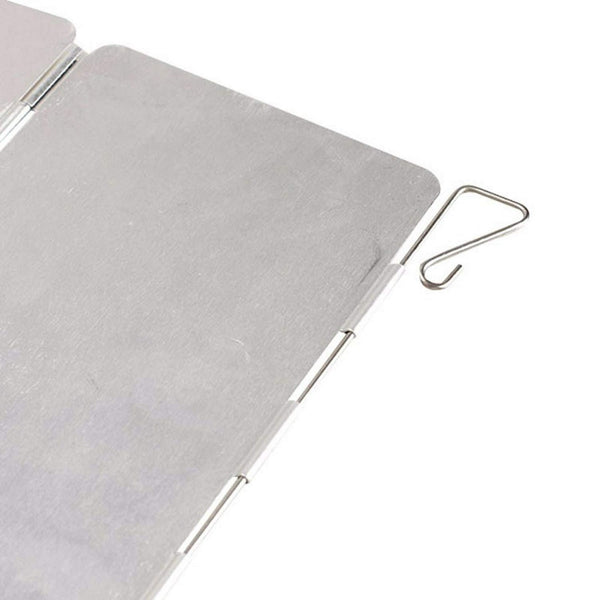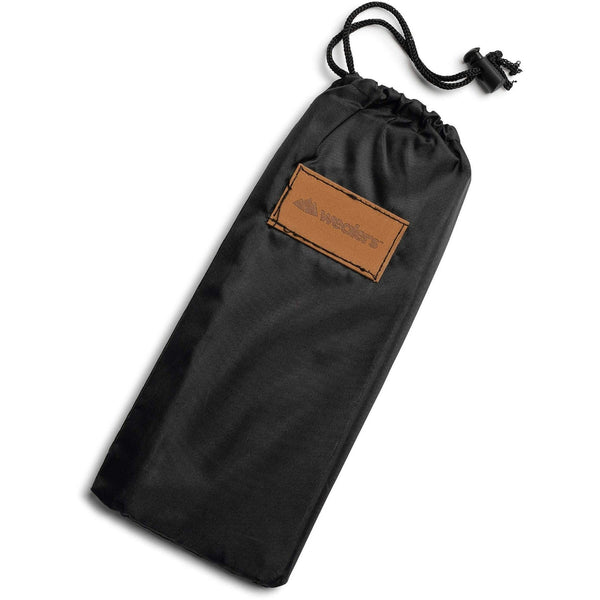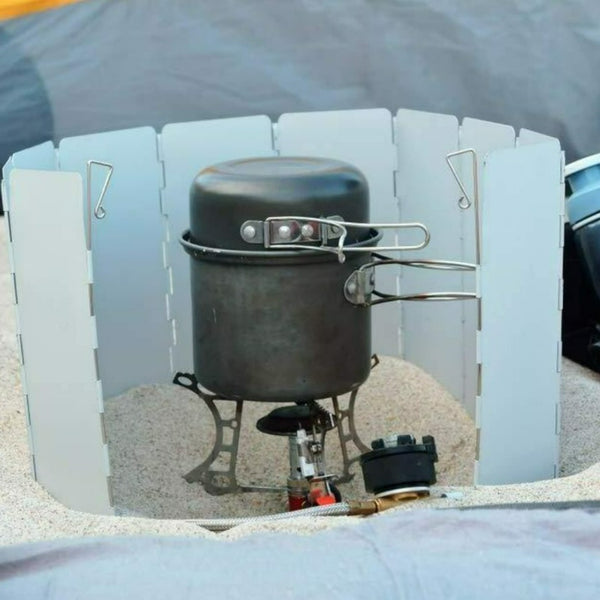 All-Purpose Backpacking and Camping Fire Shield
There's nothing like getting outside and enjoying a few amazing hiking, camping, or fishing trips during the summer, especially when you're spending time with friends and family. That's why we created the Wealers Camp Stove Windscreen to make it easier to cook up fresh, delicious camp favorite foods while blocking out the wind to ensure your fire burns bright and hot even when the wind kicks up as the sun falls.
Quick Camp Fire Shield

Rugged Outdoor Use

Portable, Travel-Folding Design

Heat-Resistant, Reflective Surface

Smooth Corners and Safe Edging

Includes Oxford Carrying and Storage Bag

Dishwasher Safe
Strong, Well-Balanced Design
our camping stove windscreen can wrap around your fire and keep it burning more efficiently. It also features built-in pegs on the bottom to stick in the ground for added wind resistance.
Compact, Foldable, and Portable
A lightweight 0.6 lbs., these camp stove shields can easily be folded up and added to the rest of your camping gear. Store them in a backpack, travel bag, a large glovebox, your trunk, a boat, or anywhere else you plan on cooking.
Universal Stove Support
The heat-resistant aluminum alloy can be used to protect and reflective heat on a variety of camping stoves and canisters, including butane, propane, small natural wood fire pits, and even Sterno cans.
Made for the Great Outdoors
Lightweight: At a mere half a pound these camp stove shields can easily go with you wherever the adventure leads, so you never have to live without a hot meal.
Durable: Designed for rust and corrosion resistance, our ultra-strong and reliable wind shields can withstand rain, snow, wind, and other inclement weather.
Aluminum Alloy: Crafted with a heavy-duty aluminum alloy, our camp stove windscreens are lighter in weight and easier to use than standard stainless steel.
Protect Cooking Fires
Along with reflecting heat and reducing the need to burn extra fuel, these camping stove heat shields make it so you don't have to continually light new fires, gather extra wood, or restart kindling to save time and effort.
Fast, Efficient Boiling
By blocking out the wind and reflecting the heat back on itself inside the "ring" created by the stove shield, you can improve cooking efficiency and help water or food heat up more quickly for faster meals.
Save on Propane Gas
When the wind is blowing, and your fire is unprotected, it can cause your canisters to have to burn more fuel to keep them going and make it harder on you if you have to continually light a new flame. Save on gas or fuel with a quick camp stove shield.
All-Purpose Campfire Protection – This pop-up camping stove windscreen keeps your fire going strong even when the wind is blowing for more efficient cooking.

Heavy-Duty Outdoor Resilience – Crafted with a high-quality aluminum alloy, our durable camping stove windscreen is made for picnics, hiking, travel, or camping.

Foldable, Portable, Lightweight – A smart, travel-friendly camp stove shield, easily fold this up and stick in a backpack, outdoor bag, or with other camping equipment.

Sturdy, Wind-Resistant Stability – The bottom of each camping stove heat shield is made built-in pegs that help it dig into the ground for added security and protection.

Improved Fuel Efficiency – Blocking out wind and protect your camp fire from your propane, butane, or Sterno can will help reduce overall fuel or gas expenditure.