6 PC STAINLESS STEEL SPICE SHAKERS KIT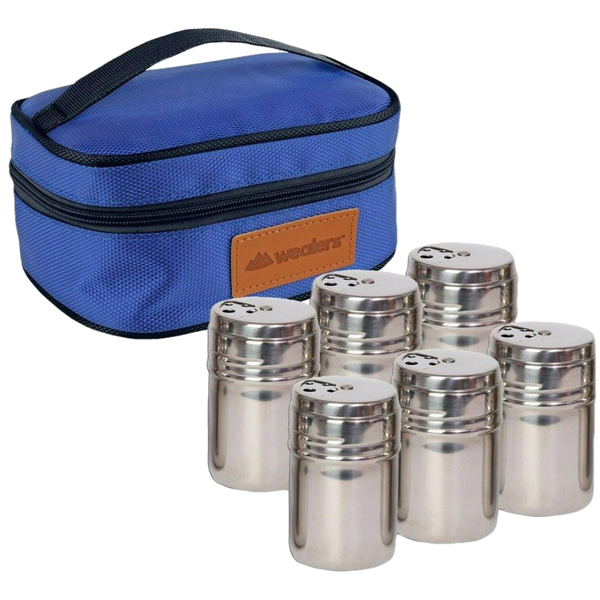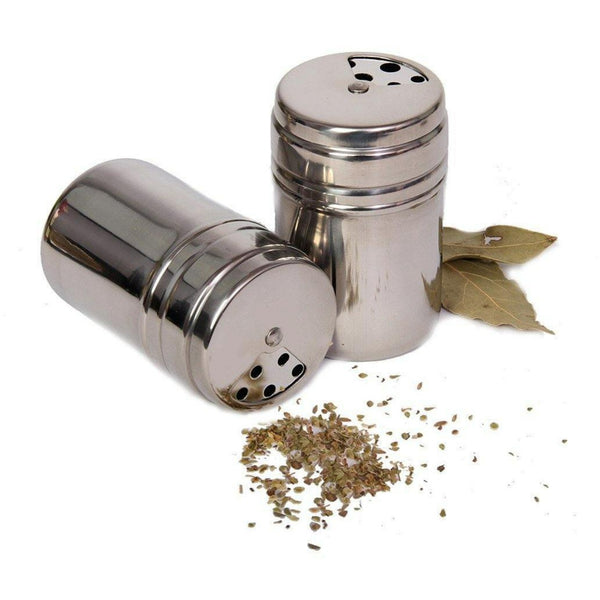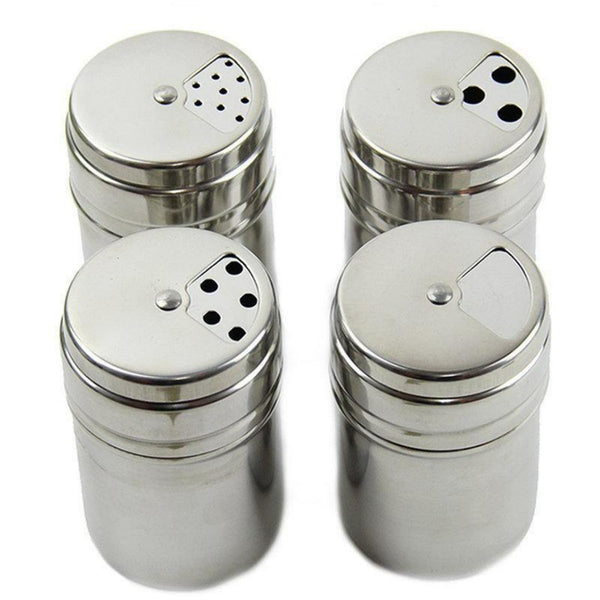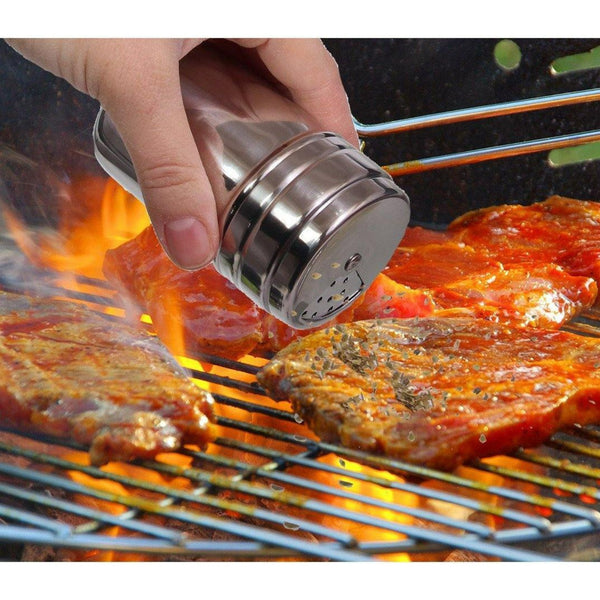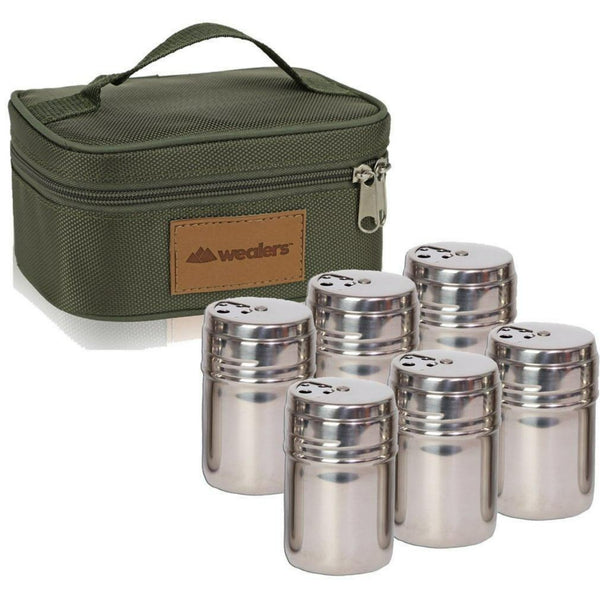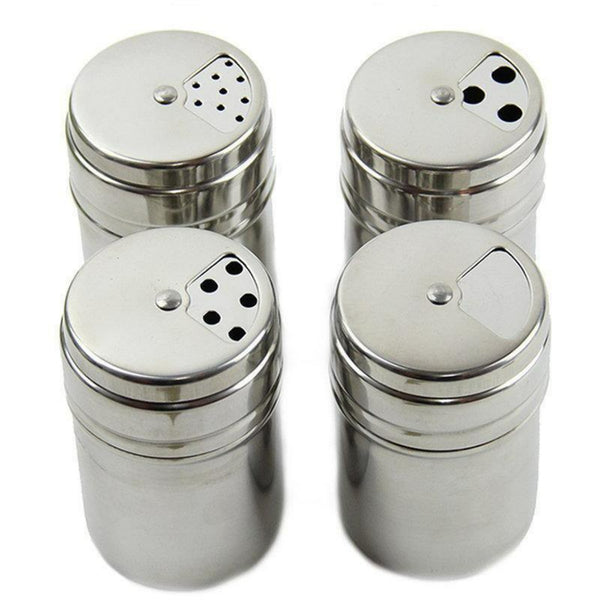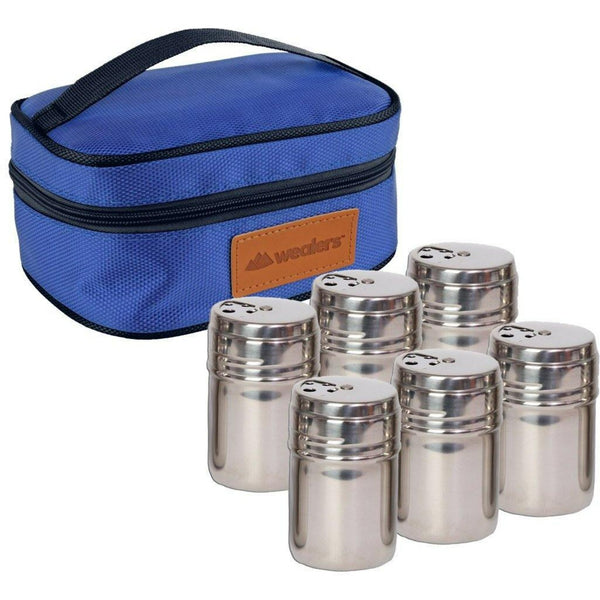 CAMP KITCHEN ACCESSORY: The perfect addition to your outdoor cooking and dining experience. Perfect for outdoor
lovers and people who simply enjoy surreal life off the grid.

DRY HERBS AND SPICES PRO: Compatible with all dry herbs and spices, thin or bulky Kosher salt and pepper, making
the set the perfect kitchen accomplice for the modern chef.

TRAVEL FRIENDLY: The portable and lightweight set includes a polyester travel bag for a simplified commuting 
experience, and it also provides versatile storage.

LONG LASTING: Made with durable, scratch resistant stainless steel, the set's components are great at enduring the
elements, and built for rugged outdoor use.

FEATURES:
- Stainless steel body
- Rotating lids
- Various sized perforations

SPECIFICATIONS: 
- Indoors | Outdoors
- BBQs | Camping | Hiking | Beach | Party | Fishing | Backyard | Mountaineering
- Spice Jar Dimensions: 5cm x 9.2cm
- L7" x W5" x H3.5"

INCLUDES:
- 6 Stainless Steel Spice Shakers
- 1 Polyester Travel case
Bullet Points 
SEALS IN FRESHNESS: Keeps your herbs and spices savory fresh, for perfect flavoring of your favorite dishes. Guarantee to provide an awesome cooking experience and tasty dishes every time.

ADJUSTABLE LID: The jar covers rotate to open and close, and allows you to control how much seasoning is dispersed, leaving minimal or no wastage of condiment supplies.

CONTEMPORARY: Engineered with a sleek, 21 st century design, the visually appealing set adds a modern element to your dinning décor, and fits harmoniously with your existing kitchen utensils and cookware. Available in Green and Blue!

STAINLESS STEEL | OUTDOOR FRIENDLY: Made with quality, scratch resistant steel, and perfect for the outdoors. It can withstand the elements and can be directly exposed to water, without worrying about corroding parts. (Jars measure 5cm x 9.2cm)

MULTIPURPOSE | DURABLE | PORTABLE: Super lightweight, compact and portable, it's perfect for all indoor and outdoor festivities and events. Compatible with all your condiments (Salt, pepper, dry herbs and spices) and makes an awesome addition to your camp kitchen's supply chest!