Stainless Steel Thermos Water Bottle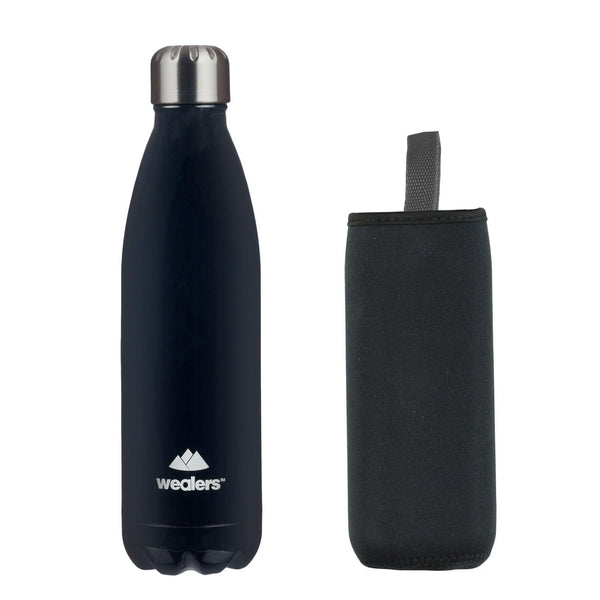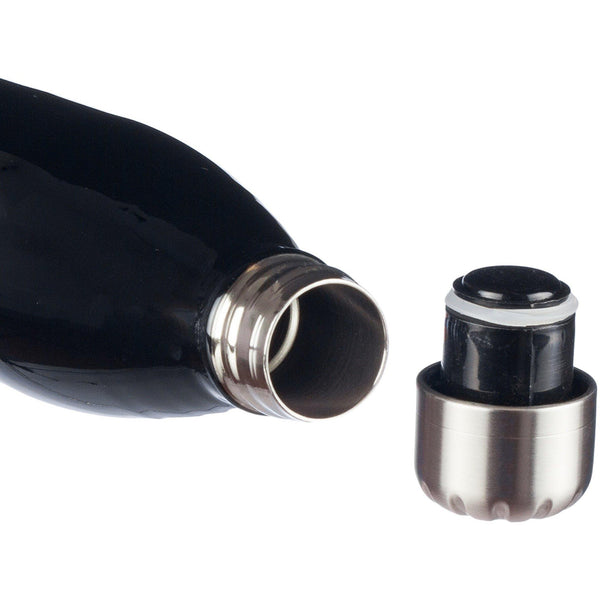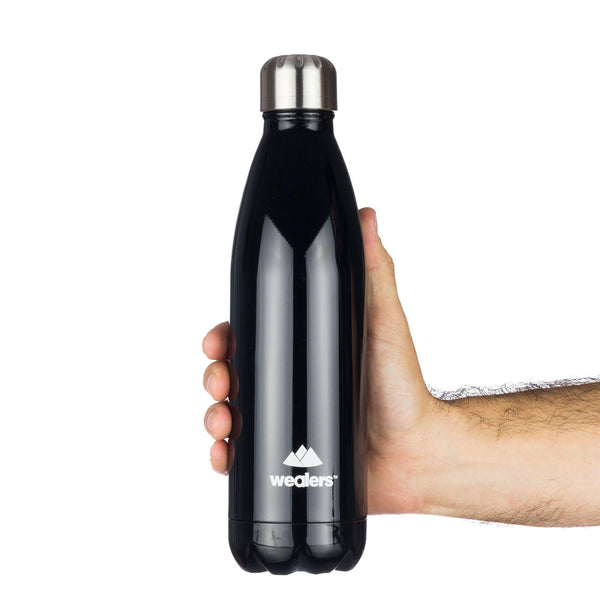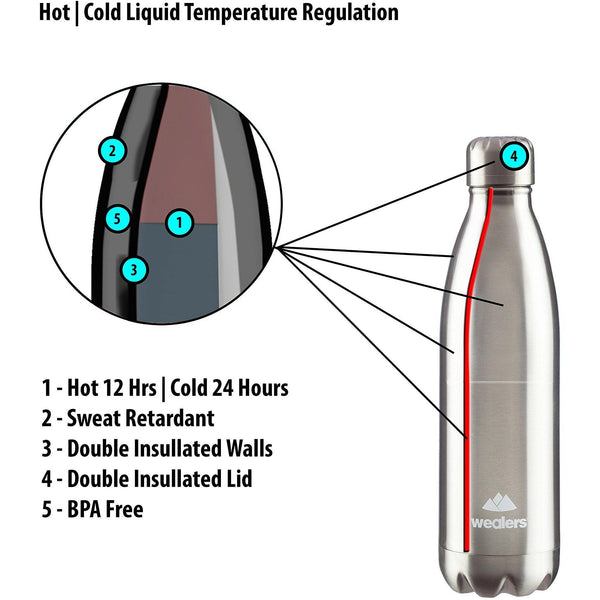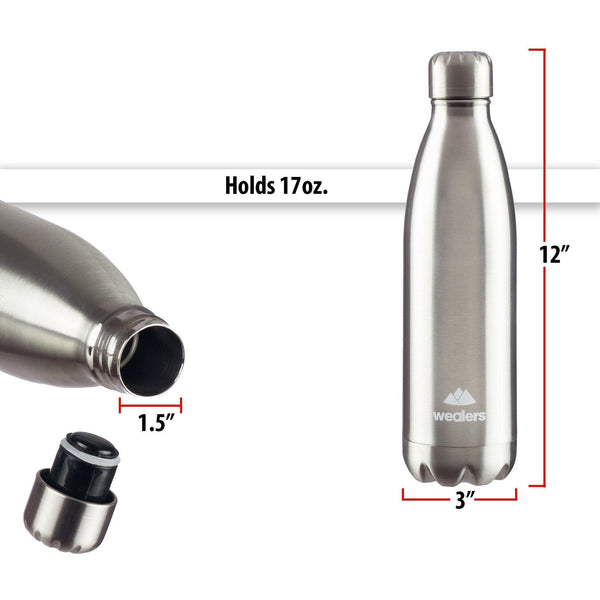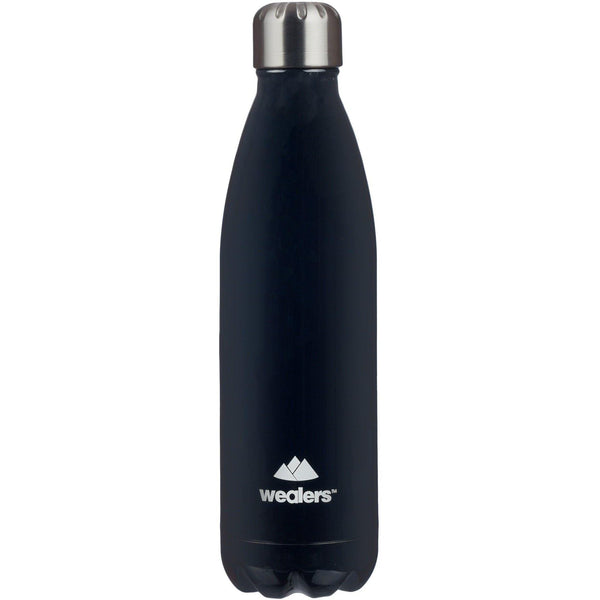 TREAT YOUR TASTE BUDS AND SATISFY YOUR THIRST! 
CONVENIENT: Enjoy delicious drinks with the perfect companion for life at home or on the go. Our travel mug keeps 
your beverages at the right temperature, hot or cold. Enjoy tasty blends on the go or in the convenience of your own
backyard with the Wealers top grade stainless steel water bottle. Perfect for all applications; daily commuting or
hiking in the woods!

OUTDOOR FRIENDLY | DURABLE: It's no holds bars for this rugged thermos bottle. Made for the great outdoors,
making it an excellent choice for hiking walks camping or sporting events like cycling or ball games! The stainless steel
body doesn't smear and it is conveniently scratch resistant so it doesn't lose its appeal over time, or get damaged from falls

VACCUM INSULATED: Double walled insulation keeps your drinks fresh, and regulates the temperature so you can have
yourself an enjoyably pleasnt drinking experience!

GIFT IDEA: Makes a spectacular gift for sporting or outdoor personalities. The active body will truly appreciate
a sparkling cold drink on a long exhausting rout. If that special someone is into camping and long walks in the
woods, boating adventures or sporting, this would be an awesomely great present!

FEATURES:
- Doubled wall stainless steel
- Temperature regulation | Hot - Cold
- Contemporary design
- Vacuum insulation
- Compact-ability | Portable
- Lightweight
- Easy Maintenance
- Easy storage | Easy to clean
- Color | Black
Features:
VACUUMED INSULATION: A wiz at locking in all the wholesome freshness of your liquid blends! The

 

air tight, double walled stainless steel body keeps hot or cold beverages regulated for hours. The

 

spill proof

 

lid closes securely stopping and any kind of leakage from occurring and it is commuter safe. Transports easily in luggage or book bags, and you will never have to worry about ruining your stationary or outfit.
MULTIPURPOSE |

 

VERSITILE: Can be used for multiple applications! Perfect for your daily routine in rush hour traffic or long

 

daysand

 

nights in the great outdoors by the

 

camp fire. Stays refreshed with your favorite ice cold blends, or enjoy a flask of savory hot chocolate or fruit blends under the brisk skylight.
NEOPRENE CASE: Comes with a trendy holding sleeve to put your thermos into when on the go. It protects your hands from extreme temperatures and also provides a protective layering for the water bottle. The case is water retardant, washes easily and dries quickly.
DURABLE: Engineered to last! The100% BPA free thermal bottle can withstand the elements and is immune to extreme temperatures. Double walled food grade 18/304 stainless steel conveniently keeps liquid drinks cold or alternatively hot for several hours. (Do not microwave)
PORTABLE | EASY

 

MAINTAINENCE: Virtually weightless, it makes an awesome outdoor companion for all outdoor adventures and events. Carry a bottle full of your best tasting iced coffee on a stroll to the park in your duffle back or backpack, and the camping water bottle cleans easily, and it is also

 

dish washer

 

friendly.